California goes from drought to mudslides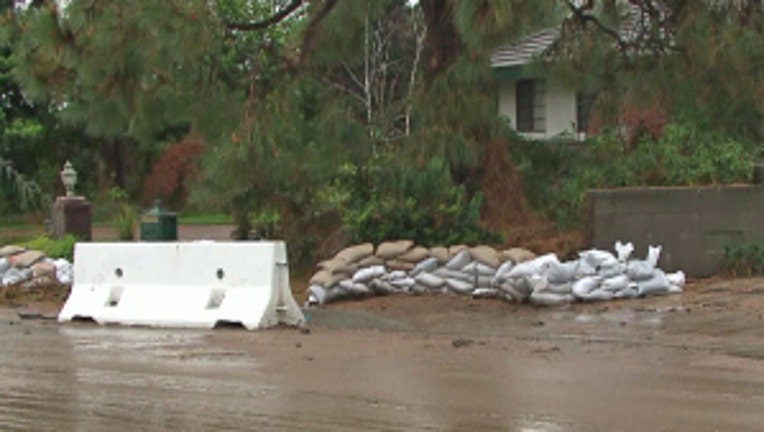 (CNN) -- Mario Vazquez grabbed his dog and got out of the way, as a stream of water and mud came gushing on to his streets Friday.

Since California has been in the middle of its worst drought in 100 years, it would seem that the sight of rain would be good news.

But in Glendora and other towns in Los Angeles County, it wasn't.

The rain has been much needed, but this deluge -- coming down at more than an inch an hour at times -- has landed on bone-dry hills scorched by recent wildfires in and around Los Angeles.

With little vegetation left to stop them, walls of water have gushed into valleys below. They have spewed mud and debris into quiet residential streets, turning them into thick, brown creeks.

More could hit before Saturday is up, the National Weather Service says. It has placed Los Angeles and Ventura counties under a flash flood watch.

By the time it's over up to six inches will have landed on the foothills of Los Angeles County and as much as 10 inches on the ridge line.

Weather weirdness

The storms brought the first rains since a powerful, persistent weather system collapsed that was keeping California parched. The same system was also at the root of a lot of strange weather around the globe -- all the way to Russia.

A massive, sturdy ridge of high-pressure air had hovered over California, blustering rain clouds away. At the same time, it pushed the jet-stream way up into Canada and distorted it, said weather environmentalist Bill Lapenta.

The stream then whipped south, pulling icy cold down into the Deep South, where it triggered snow storms. Then it dragged them up to Northeast, before crossing the Atlantic and bringing floods to Britain.

It is also brought the unseasonably warm weather at the Olympic Games in Sochi, Lapenta said.

The heavy California rains will not do much to alleviate the drought, according to the CNN Weather Center.

A lot of the water is flowing right back out to sea, and the drought's effects have been enormous. Water reservoirs are running at minimum levels.

For the first time in its history, the California Water Project - a system of canals and reservoirs that provide water to two thirds of the people in the state's Central Valley -- set its allocation for all of them to zero.

Fire then water

Floating in Glendora's silt were chunks of burned wood.

Just weeks ago, flames were consuming the hills looming above them. Now, a thousand homes in the valley have been ordered to evacuate, for fear of flash floods.

Besides his dog, Vazquez left almost everything he owns behind to face the sludge.

"I got my laptop," he said. "It's going to be fine. It's all replaceable."

It was probably quick thinking on his part. The rising waters caught many off guard.

"It wasn't like this 20 minutes ago," said resident Ryan Friend. He seemed aghast, as he watched a stream of thick brown pour down a street.

Though they say the situation is dangerous, authorities have reported no deaths or injuries.

But there have been close calls.

Sick of weather

Rescuers found two people clinging to life in trees inundated by the rapidly rising torrents of the Los Angeles River, flush with fresh rain.

Then came the dogs. Firefighters carefully guided them down from the branches into a rescue boat below.

Kim and Dennis Kralik decided not to heed the evacuation orders. Now they're stuck in the mud in Glendora, with streets too full of silt to drive on.

They and other residents have been lucky so far.

But mud from the streets is beginning to ooze over into yards, pools and houses. It has damaged two homes in Glendora so far, police chief Tim Staub said.

The Kraliks are feeling fatigued.

"We've had fire, drought, now torrential rain," Kim Kralik said. "Pretty much everything."

They are sick of unpredictable weather.