Businesses vandalized even before May Day marches begin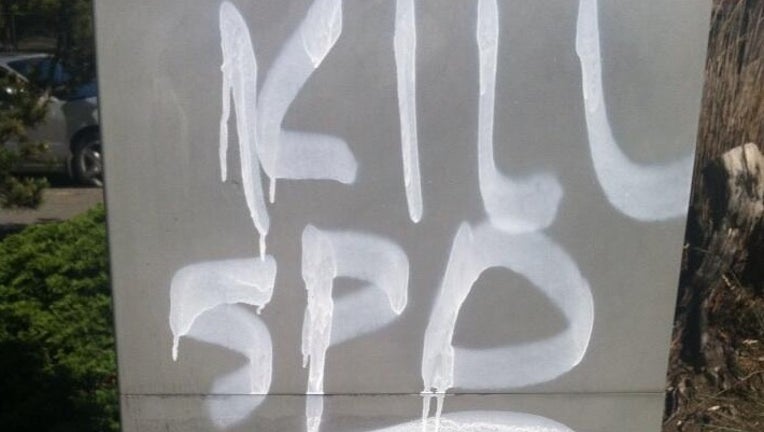 SEATTLE - Anarchists or people calling themselves anti-capitalists posted offensive messages all over downtown by Thursday morning.

The rhetoric was not just offensive but they were specifically calling for action, for riots and even violence.

Someone spray-painted threats on Capitol Hill storefronts. Barrio on 12th Avenue was one of the businesses targeted.

Employees washed the paint away in time for the lunch rush but a tag that read "Kill SPD" on a Bank of America sign on 13th and Madison won't be so easy to erase.

"I'm tired of the commotion it really disrupts people's lives," downtown worker Jamie Rivers said.

Businesses like Nordstrom are allowing some employees to go home early if they are concerned about getting home safely.

Mario's nearby is also doing the same.

"It's going to be crazy around here so if they want to leave early they can leave early," manager Chris Poullos said.

Poullos says he is hoping for the best but his block was ground zero on May Day just two years ago.

"Anarchists were slashing cars and tagging windows," Poullos said.

Restaurants near Nike Town are bringing in patio chairs and tables so they can't be used as weapons.

They are also on standby to lock down, telling employees to stay away from windows in case violence breaks out.

"Bigger businesses next door like the Hilton are bringing in extra security," Café Abodegas owner Uriah Duperault said.

"If I get trapped I will definitely observe and take pictures and document it," downtown worker Stephanie Loose said.

Some downtown stores told Q13FOX News that business started slowing down early Thursday afternoon. They believe it's because shoppers just don't want to risk getting stuck downtown.