Business savior or a sin? Jesus tokes up in local burger ad
SEATTLE -- The advertisement inevitably raised some eyebrows.

Heck, it was intended to.

"I wanted you to look at Jesus smoking a blunt, eating a hamburger and say, 'hey, I'm going to tell my friend," said John Schmidt.

Schmidt is the owner of Seattle-based Lunchbox Laboratory restaurants and behind a much talked about email-blast.

The ad, emailed out to 13,000 Lunchbox Laboratory deals subscribers, features a picture the Lord and Savior in a not-so-classical pose with a burger in one hand and a marijuana joint in the other. Text springing from Jesus' mouth reads, "When I Get Back, All I Want is the Burger of the Gods."Above him is Easter's date with the number 4.20 highlighted in green.

The advertisement, originally seen by around 1,000 of the 13,000 subscribers, is meant to highlight the sale date for the scrumptious Burger of the Gods.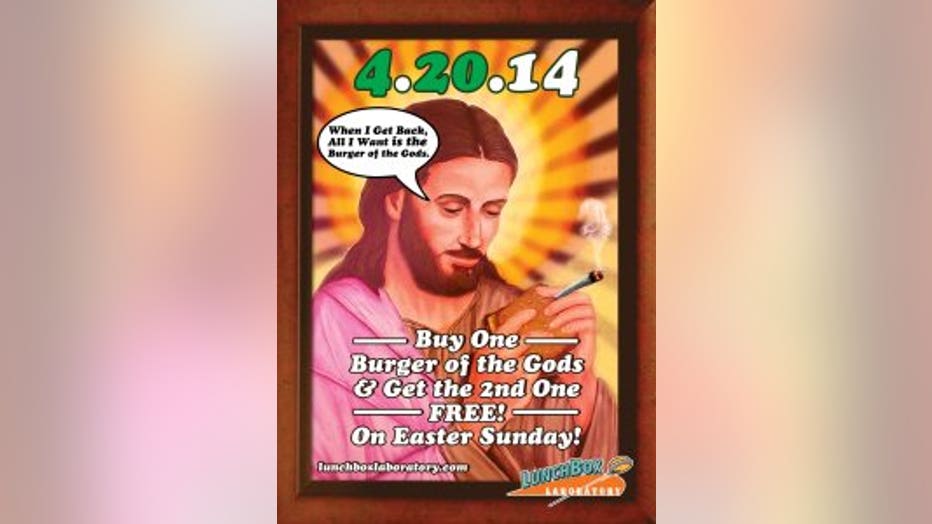 An advertisement emailed out to all of Lunchbox Laboratory's deals subscribers is garnering media attention.


Instead, it has garnered attention from media outlets, both locally and nationally.

"The chatter is much more than I anticipated," Schmidt said. "I'm simply trying to sell burgers."

To be fair, most of the internet comments surrounding the ad have been positive, largely crediting Schmidt and his team's marketing ingenuity. The ad draws attention to an Easter sale, Schmidt said. And since Easter happens to fall on 4/20 -- a day renowned in stoner culture -- Schmidt decided to add an extra twist and put a jay in Jesus' hand.

Schmidt said the ad catered to his customers and was a good way to dredge up attention and cash on an otherwise slow holiday.

"We're not a brunch kind of place so we don't have an Easter crowd," Schmidt said. "We're a small business trying to pay it's bills."

Inevitably though, Schmidt has received some complaints from his depiction of a Jesus with munchies. Conservative-leaning talking heads on the airwaves questioned if Schmidt would confidently display Martin Luther King Jr. or the prophet Muhammed holding a joint. Or if Schmidt -- who says he is a practicing christian and a "family man" -- asked his pastor if the advertisement was agreeable before he sent it to restaurant email subscribers

Schmidt laughed off the later suggestion.

"When my business is struggling to pay my bills, I'm not going to go to my pastor," Schmidt said. "I am trying to get people excited about this advertising."

Schmidt said if anything, it's the media spreading the picture of Jesus smoking to the public... something he's not upset about (free advertising is the best advertising). He restricted the ad to email subscribers all of which had the opportunity to unsubscribe from his email blasts. Yet TV and radio were running it on the air.

"I didn't put it on TV," Schmidt said. "I just sent it to my customers."

In the end, Schmidt said the positive comments prevail and it's all about selling burgers. Something those who think negatively of the toking Jesus should remember.

"I'm not your moral compass," Schmidt said. "We're just trying to sell sandwiches. If you're looking to me for moral direction you're probably misguided."