Business owners, residents weigh in with KeyArena construction set to start Wednesday


SEATTLE - Just ahead of Wednesday afternoon's groundbreaking ceremony at KeyArena, crews are already working on preparations for the big showing.

Neighborhood association Uptown Alliance says road crews will move the bike lane from the east side of 1st Avenue North to the west side of the street to free up the lanes for Metro buses and other traffic.  Uptown Alliance officials said it's part of the Oak View Group's efforts to keep traffic flowing during construction.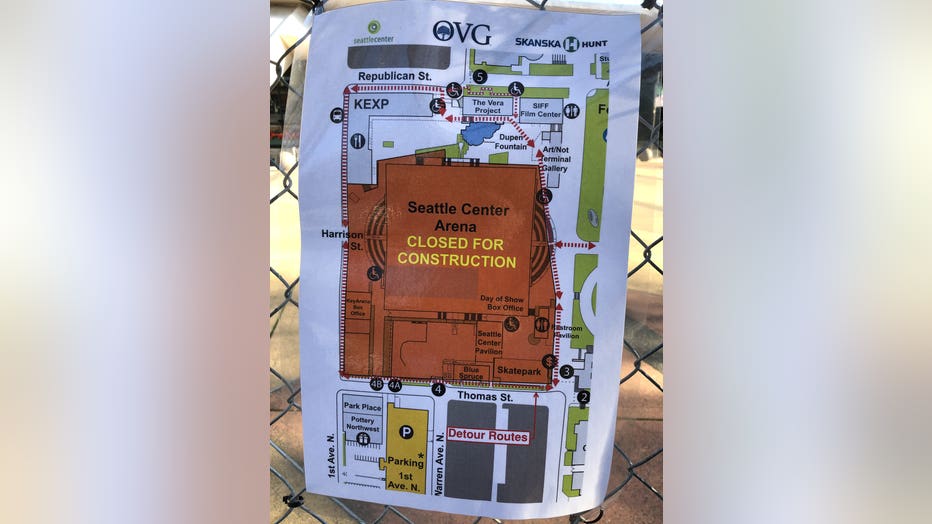 The sounds of kids playing outside of KeyArena will soon turn into construction noise.

"We're in urban setting so we hear police cars and fire trucks going by daily so I don't think this will be any new change for us there's tons of construction going on in the Queen Anne area," said Mighty Kidz Daycare Owner Kyla Liboon.

Mighty Kidz Daycare Owner Kyla Liboon is right across the street from Key Arena.

"With our parents you know really lucky to have a parking garage in the back of our building so we'll just be encouraging our parents to use that instead of using the streets," said Liboon.

The streets are a big deal to a virtual kitchen nearby with restaurants that rely on UberEats and Grub Hub services.

"We could meet with them on the corners. We could meet with them on the corners or on republican we can just meet them with the food if it's going to be that big of a problem," said Ziya's Turkish Kitchen Owner Ziya Arikan.

Ziya Arikan says he's ready to feed all the construction workers his signature Turkish meatballs and can't wait for the work to be done to feed sports fans.

"All this construction and all these people working for construction, they're going to support the businesses around the area," said Arikan.

But the construction over the next two years has Martina Lubetch dreading commuting through the area.

"Traffic is already awful and especially that its surrounded by one way streets," said Martina Lubetch who lives in Queen Anne.
She walks around with her dog "Outie" and usually takes the bus.

"Parking is crazy though. There's no parking anywhere; not even here and its expensive," said Lubetch.

Back at the daycare, Liboon plans to use the construction as a teaching experience for her kids.

"We use the Seattle Center daily for our kids for education purposes.  It's a great experience for them to be able check out the construction and see what's going on," said Liboon.

For Arikan, it's simply growing pains he's prepared to endure.

"Whatever the price we are willing to pay for it. It's going to be a better Seattle," said Arikan.

The Uptown Alliance says it just hired consultants who will help deliver information and concerns between business owners and the developer and construction crews.