Burien man dying of cancer devastated by stolen Seahawks flag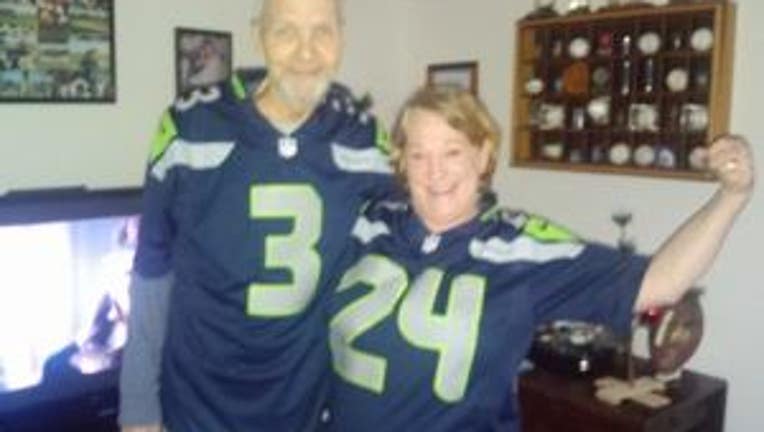 article
BURIEN -- The 12th man flag means a lot to a lot of people in the Puget Sound.

But to one Burien couple, it's more than a flag - it's a symbol of the life they have built together.

That symbol has been ripped away by a heartless thief before what could be their last game together.

To Allen and Tina Ball, the flag symbolizes hope and that is something so crucial for them right now.  They are going through the hardest time of their lives: Allen has been diagnosed with cancer and his days are numbered.

Allen and Tina's romance blossomed during a football game in 1994. Ironically enough, it was during a Seahawks versus Broncos game.

"I was actually yelling at Elway," Tina said. "That is when he came up to me and he said 'I like your attitude.' We have been together ever since."

As lifelong Seahawks fans, they've collected ways to show their support. Each item has a story behind it.

"We have Jerome, the 12th man traveling gnome," Tina said as she pointed to a garden gnome painted in Seahawk colors.

One of Allen's favorite items was a flag he got for Father's Day years ago. They were devastated when they discovered someone stole it overnight.

"When I saw the hook there - somebody had really yanked it off - it was really hard not to burst into tears and cry," Tina said.

It's more than just a flag. It's a reminder of better days.

"It's the history, this is our last season together," Tina said.

Allen is dying of lung cancer and he was too sick to be interviewed Thursday. Doctors gave him a year to live and that year is already up.

"Our little piece of joy was every Sunday and seeing the flag every time we pulled back up in the driveway," Tina said.

Tina is convinced the Seahawks Super Bowl run is giving her husband the will to hang on a little longer.

"It may sound cheesy, but I really believe that is what's keeping him going right now," Tina said.

In spite of doctor's visits and treatment, Allen hasn't missed a game and last week's NFC Championship win left him smiling for days.

"We are watching the ball and when it was caught he goes 'Did you see that? We are going to the Super Bowl!' Tina said. "I'm jumping up and down 'We are going to the Super Bowl!'"

Tina is expecting the Super Bowl to be their last game together. All she wants is one more perfect Sunday.

"If you bring it back, that is the end of it," Tina said. "I don't want to know who you are. I don't want to chase you down. Just please bring it back - his is all we've got right now."

Allen will be rooting for Doug Baldwin - his favorite player this season - and the rest of the Seahawks at home, surrounded by loved ones during the Super Bowl.