Burglars ransack Seattle couple's home, bust open gun safe and steal three AR-15s


SEATTLE -- A southwest Seattle couple returned from vacation to find their house ransacked by thieves.

"They went through pretty much everything we had and we came home to everything on the ground," said Marlene, who asked that their identities be protected.

The thiefs entered the house on 17th Avenue SW on August 6 by shattering a glass door at the rear of the home. They dismantled the home security system and took it. Then, they ransacked every room and broke into a gun safe and stole several firearms, including two S&W M&P15 Sport II AR-15s, a Bushmaster XM15-E2S AR-15 and a S&W M&P .22 cal LR pistol.

"It's dangerous and it's scary. Knowing that they're probably going to be used in some kind of violent crime is the worst feeling,"said Scott.

The crooks also took electronics, jewelry, furniture, and foreign coins from WWII given them by their grandparents.

"Pretty much everything that ever meant anything to us," said Marlene.

The thieves also took credit cards and someone started using them one day after the burglary.

"You have a female and two male suspects go into a Walmart in Renton and rack up about $550 worth of merchandise using the victim's credit card," said Ret. Det. Myrle Carner with Crime Stoppers of Puget Sound, which is offering a cash reward of up to $1,000 to anyone who can identify the suspects.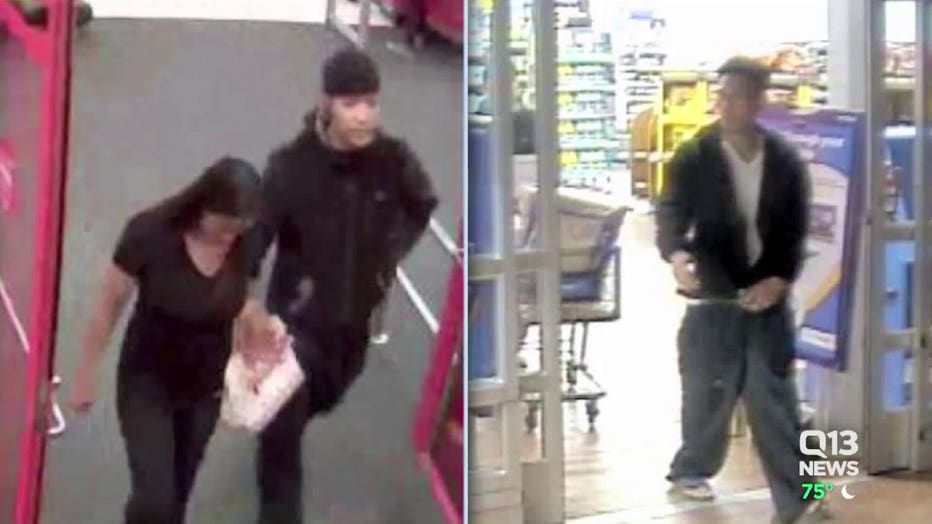 Most of the items purchased with the stolen credit cards were things a construction worker or painter would use.  Someone did the same thing at the Tukwila Target and charged $411.65 to the victim's credit card. Most of the items purchased there were for household use.

Marlene and Scott have since moved and are questioning their security everywhere they go now.

"The things that we can't replace. The things that we can't square away with insurance, those are the things that we're gonna miss the most," said Marlene.

If you can identify any of the suspects, call the hot line anonymously at 1-800-222-TIPS (8477) or submit the tip at www.crimestoppers.com