Bundle up Puget Sound! Below-freezing temps will stick around all week


SEATTLE -- Winter is digging its nails into Western Washington and not letting go. Q13 News Chief Meteorologist Walter Kelley said this week we'll have some of the coldest overnight low temperatures in over a year.




Monday was sunny but very cold. Lows near 24 and highs near 35.




Tuesday will be sunny and cold in the morning but the afternoon gets cloudy. Kelley said there will be a few snow showers Tuesday night. Mainly at the beach but a place like Shelton or Olympia could see snow showers into Wednesday morning.




Wednesday will be mostly dry and cold. Wednesday night into Thursday morning will have more snow showers. Towns like Port Angeles and Bellingham would see the most snow. A few inches possible up there Thursday morning.

Thursday looks like another shot of snow showers, Kelley said.

Track rain and snow with Q13 Interactive Radar

The overall weather pattern for the next 7 days will be cold and dry, but the snow chances are there for just about everyone.

"Yes, it'll be cold enough to snow, but we're not in a big wintery pattern," Kelley explained on Facebook Live Sunday.

Kelley said he doesn't expect there to be a big snow event this week, but some areas could pick up an inch or two.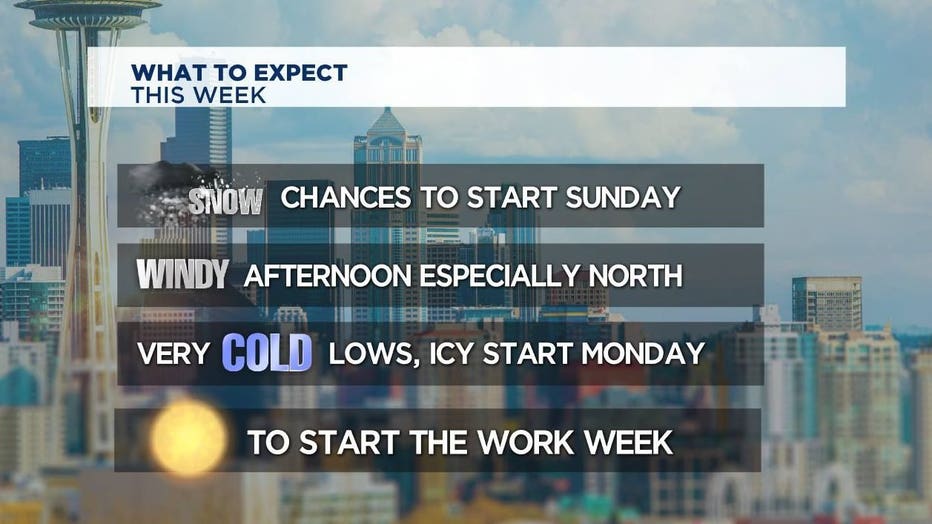 Watch Q13 News from 4:30 a.m. - 10 a.m. and 10 p.m. - 11:30 p.m. all week. Also, follow Q13 News on Facebook and Twitter for the latest updates on our changing winter weather.

Bundle up this week it is going to be COLD.