Brutally honest ad for used Oldsmobile goes viral: 'This b---- rusty'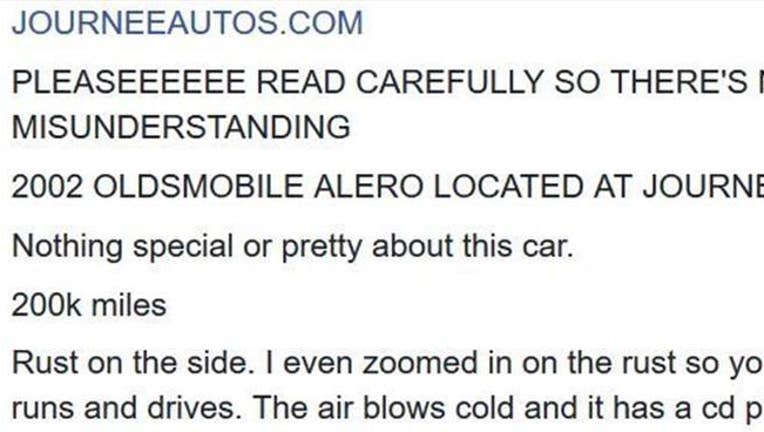 LARGO, Fla. – Car buyers who fear getting fooled into purchasing a lemon, take solace: There is at least one honest car salesman out there.

An ad posted on Facebook Wednesday for a 2002 Oldsmobile Alero has gone viral, and the first line gives a taste as to why: "Nothing special or pretty about this car." The car, available for sale at Journee Autos in Largo, Fla., has racked up 200,000+ miles and is being offered for $900, and "You're getting 900 dollars worth of car," reads the post by Shelmar Pierre Roseman.

The side is rusted, and the photos zoom in on that, so "don't bring your a-- down here saying it looks different in the pics or you didn't know it had that much rust. I'm telling you right now. This b---- rusty." And should you bring your butt to the dealer, no haggling.




"No I do not have any wiggle room. You can wiggle yo a-- down to another dealership." Bottom line, the car runs, the air conditioning works, and it has a CD player.

"This will get you from A to B. Just don't try to make it to C. ... This car will last you at least ALL SPRING '17." The Daily Dot says it "has to be the most honest ... ad in the history of automobile selling," and many of the 22,000 commenters on the Facebook post apparently agree.

"Finally an honest car dealer!!" wrote one. (This honest note went viral, too.)

This article originally appeared on Newser: When Car Salesmen Don't Lie: Oldsmobile Ad Goes Viral

More From Newser:

So Many Deleted Uber, Uber Had to Make New Process
Entrepreneur Earns $350K With Kickstarter Knockoffs
Don't Marry Mario: 'Locked-in' Patients Can Finally 'Talk'