Brother, sister both in custody; charged as adults in brutal attack, robbery of Seattle woman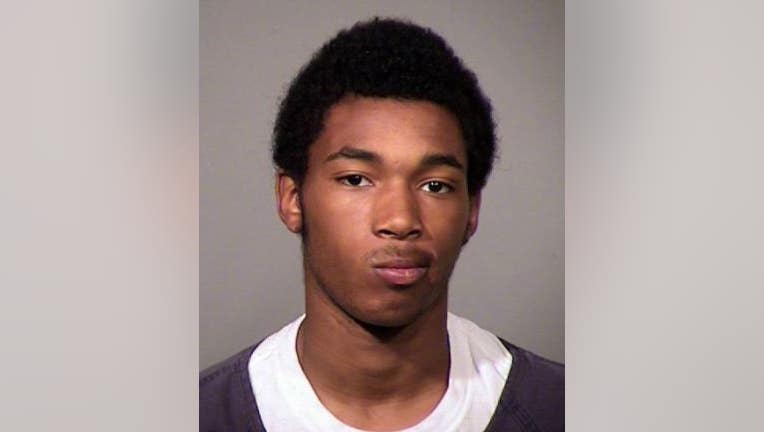 FUGITIVE CAPTURED January 22, 2016 --
Seattle robbery suspect Cedric Jackson who has been on the run since last August has been booked into the King County Jail.

Tukwila Police officers spotted him at the transit station (Hwy 99 & Hwy 518) and arrested him.

Apparently, he was armed with a handgun when he was caught.

He's being held on $250,000 bail.

FUGITIVE UPDATE September 11, 2015 --
Cedric Jackson, 16, is still wanted and detectives are hoping he can be as brave as his sister and surrender.

"He's now wanted in all 50 states, that means no matter where you run, you're gonna be wanted," says Ret. Det. Myrle Carner with Crime Stoppers of Puget Sound. "So do the right thing, as a family, a friend of this guy, if you know where he's at, today's the day to turn him in."

If you know where he is, call an anonymous tip into:
CRIME STOPPERS: 1-800-222-TIPS

You must call the Crime Stoppers hotline with your tip to be eligible to receive a cash reward for information leading to a fugitive's arrest.

CLICK HERE for information on how to TEXT A TIP to Crime Stoppers.

FUGITIVE CAPTURED August 20, 2015 --
Keoni Williams did the right thing and surrendered Thursday night.

She was booked into the King County jail.

Her brother, Cedric Jackson, is still wanted.

FUGITIVES WANTED IN SEATTLE August 2, 2015 --
Seattle Police say Cedric Jackson and Keoni Williams are on the run after being charged as adults with armed robbery, assault and auto theft. They each have $250,000 warrants for their arrest.

They are brother and sister. Cedric has a recent conviction for Robbery 2 and Possession of a Stolen Vehicle.

Detectives say they beat a woman savagely with a pistol knocking out one of her teeth and causing large cuts to her head, demanded all her money, took her at gunpoint in her vehicle and discussed killing her.

A witness saw them force the bloodied woman out of the vehicle at 27th Ave NE and NE Blakeley St.

The suspects are considered armed and dangerous.

Jackson is 16 years old, 5'8" and weighs 140 lbs.

Williams is 17 years old, 5'4" and weighs 120 lbs.

Detectives say they should be considered armed and dangerous and advise caution.

The U.S. Marshals Pacific NW Fugitive Apprehension Task Force is looking for them and asking anyone with information on their whereabouts to call Crime Stoppers at 1-800-222-8477.

All calls are anonymous and there is a cash reward of up to $1,000 for information leading to their arrest.