'Broncos Bandits' bank robber who wore Denver football beanie; had woman watching his back -- arrested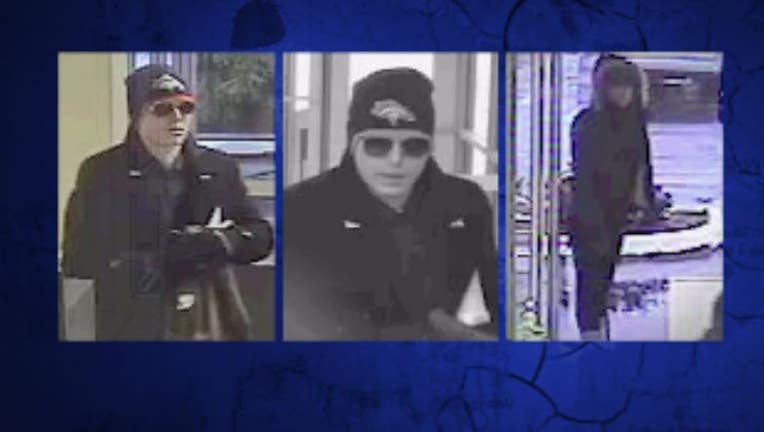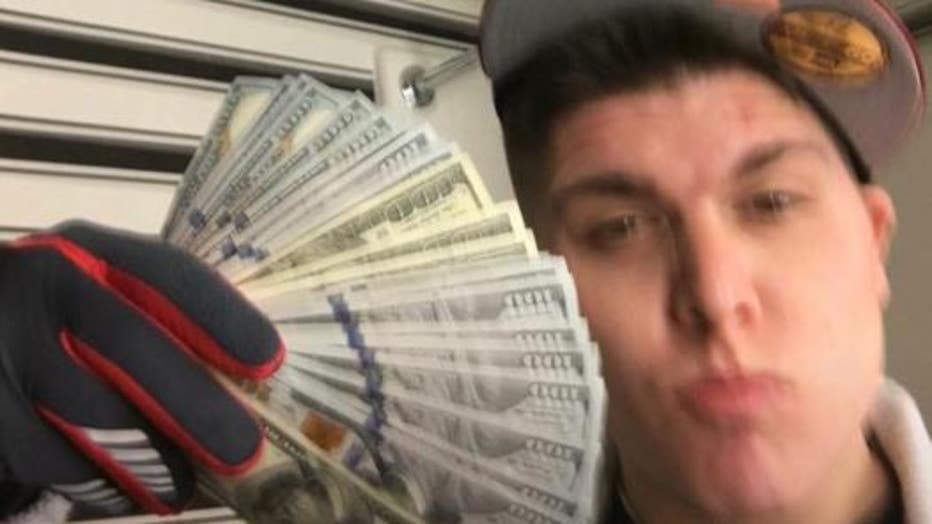 CAPTURE UPDATE --
King County Prosecutors have charged Jennifer Thomas -- a.k.a. 'Jennifer Jones' -- and Arthur Stavig with Robbery in the 1st Degree after holding up Heritage Bank in Shoreline.

Court documents show Thomas acted as a lookout while Stavig, who was wearing a Broncos beanie and sunglasses, ran into the bank with a handgun, waved it around and yelled 'This is a robbery' and 'Give me the money' before fleeing with $650.

Detectives say the two suspects were identified by a Lynnwood Police officer who saw their surveillance photos on a law enforcement flier before it was released to the public. Detectives arrested Stavig on Thursday, Jan. 28th and located the gun in his vehicle.

He has five felony convictions for VUCSA (illegal drugs) Possession and Identity Theft in the 1st Degree.

He was given a drug diversion sentence in 2013, but prosecutors say he continues to re-offend.

Stavig told detectives he survives by 'leeching off his parents' and just sleeps 'wherever'. He said he consumes a 'bottle of heroin a day."

Lynnwood Police arrested Thomas on Tuesday and turned her over to King County Detectives.

"Once the story aired on Washington's Most Wanted we did receive many more tips confirming the names that we already knew," said King County Sgt. Cindi West. "These two are now in custody and won't be robbing any banks soon."

Prosecutors say both suspects confessed to the robbery.

Thomas has five felony convictions including Criminal Impersonation in the 1st Degree, Possession of a Stolen Vehicle and Controlled Substance Violations.

Prosecutors have requested both be held on $250,000 bail.

They will be arraigned on February 18.

WANTED IN KING COUNTY January 29, 2016 --
This case is a little baffling because when you look at the video of a bank robbery in Shoreline you may think both of the suspects are women, but that's not the case according to the tellers who talked to the gunman -- it's one man and one woman.

King County detectives need your help identifying both of them and solving the mystery. "In this robbery this guy enters this bank and does a 'takeover-style' robbery. He has his gun up in the air. Witnesses say he was yelling. 'This is a robbery, give me your money,' basically like something you'd see on TV, only this is real life. He takes all the money out of one of the cashier drawers, then directs the teller to another drawer, but there's no money in there. At that point he flees. Interesting in this case, also, is that you can see there's a woman standing guard behind him at the door. She's clearly watching, making sure nobody comes up while he's doing this robbery. Bank robbers tend to be more quiet and shy, pass notes, but don't display things, but this guy walks in with the gun held high and he's yelling at everybody, so he's pretty brazen and we want to get him off the street."




The robber wore a Denver Broncos beanie, so we're dubbing them the 'Broncos Bandits."

Detectives think he's white, 25 to 30 years old and around 6'0".

His watchout woman was wearing a dark colored jacket with fur lining around the hood and Ugg-style boots.

Witnesses saw an older white compact car leave the area right after the heist described as similar to an older Chevy Aveo or Nissan Versa.

If you recognize these 'Broncos Bandits" or know anything than can help detectives identify them, call an anonymous tip into:

CRIME STOPPERS: 1-800-222-TIPS

You must call the Crime Stoppers hotline with your tip to be eligible to receive a cash reward for information leading to a fugitive's arrest.

CLICK HERE for information on how to TEXT A TIP to Crime Stoppers.