Bonney Lake native awarded Medal of Honor at White House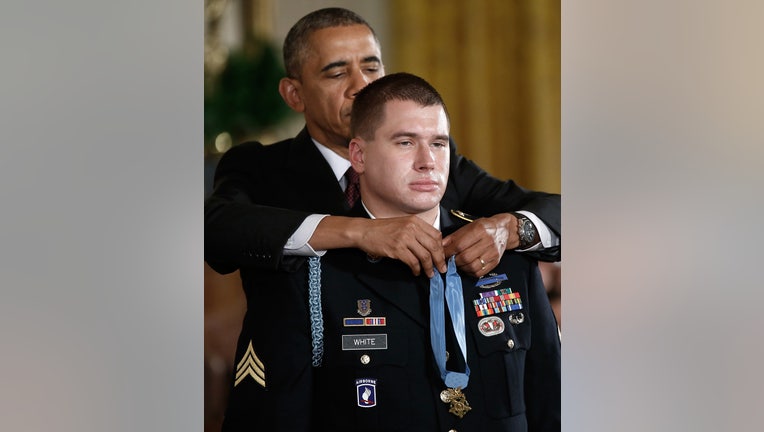 article


(CNN) -- A former Army sergeant who withstood Afghan insurgent fire to save his fellow warriors' lives was awarded the Medal of Honor on Tuesday by President Barack Obama at the White House.


As Kyle White's parents and many of his former colleagues looked on, Obama recalled the veteran's bravery by risking his life to save several of his colleagues wounded by enemy fire in Afghanistan.

"May God bless you and may your courage inspire and sustain us always," Obama said of White and his fellow soldiers.

SEE 23 PHOTOS OF MEDAL OF HONOR CEREMONY

In November 2007, White was a 20-year-old sergeant and platoon radio telephone operator from Seattle. He and a group of American and Afghan troops had just left a meeting with elders in a remote mountainous area of Afghanistan and were walking along a trail when they were fired upon.

"I remember walking down this little incline and looking into the valley, I hear this single shot," White told CNN. "Then then two shots, then the echo, then fully automatic gunfire.

Rocket-propelled grenades seemed to be coming from every direction.

Taking so much fire, members of his patrol were separated as they tried to take cover. White fired his first magazine and began to load another one. Then an RPG knocked him unconscious.

When White came to, an enemy round hit a rock just inches from his head. The shrapnel cut his face.

Dazed, he struggled to take in what was happening. He and four others were separated from the other soldiers, who jumped from a cliff. White applied first aid to a wounded soldier, and they both moved to the only cover available: a single tree. That soldier would survive.

It was at that point in the attack that White realized his radio wasn't working.

He looked out and saw a member of his patrol about 30 feet away whose wounds were so bad that he could not move. White ran toward him, braving enemy fire.

White was able to drag the wounded man back to the tree.

But the man's injuries were too severe, and he died.

Risking death, again and again

White continued to risk himself to help his fellow warriors, again running from cover into enemy fire to reach the platoon leader. White told the military publication Stars and Stripes that he could see the leader's helmet and assault pack, but he couldn't tell whether the leader was alive. White had to see, he said.

White crawled toward the man. It was too late. He was dead.

White figured he would be killed. But he would do what he was trained to do. He would carry out his duty.

"It was never a choice," he explained to CNN. "I told myself from the beginning that I was going to be killed, you know... just the amount of fire ... I'm not gonna make it through this."

But he kept focused. The soldier White had dragged to the tree earlier swas hit again, this time in the leg, so the White wrapped his belt around the man's leg, creating a tourniquet.

Then White found a working radio and called for artillery and helicopter gunships to help.

Finally, maybe, there could be hope. But then something awful happened. A friendly mortar round landed near White.

"I remember just red hot chunks of metal like the size of my palm just flinging by your head," he told Stars and Stripes.

Suffering a concussion, White managed to hang on, waiting for the medevac. When help arrived, he told his rescuers to put the other wounded aboard first.

White spoke with National Public Radio this week, seven years after that battle on the mountain.

"It seemed like we were on that hillside forever," he said.

A soldier, changed

Six American service members died in the attack.

"It's something you still think about every day," White told NPR. "I still have these images from that day burned into my head. But it's something, as time goes on, it gets easier."

But something inside him changed, he said.

"Even to this day, you know, I can't say if it was something good or bad. ..." he told NPR. "And that was pretty much the reason why I decided to leave the Army."

When it came time for White to reenlist, he thought hard about whether doing so felt right. He decided against it because he doubted that he could devote his complete heart and mind to it, he told NPR.

It was unacceptable to him to continue in the service and then, perhaps, be deployed to Afghanistan. Service members deserve a leader who is all in, he explained.

When Obama called White on February 10 to deliver the news that he was receiving the Medal of Honor, the two joked about how different the veteran's life is now. When the President asked whether working as an investment analyst is less exciting than the Army, White laughed and said it was.

White was told not to tell people about the award, he told Stars and Stripes. But he said he couldn't resist telling his mom and dad.

He is the 10th recipient of the Medal of Honor for actions in Afghanistan, and the seventh surviving recipient. Four service members received the Medal of Honor -- all posthumously -- for actions in the war in Iraq, according to the Congressional Medal of Honor Society.

White told CNN beforehand he'd thought a lot about how he would feel at the afternoon ceremony.

"From what I hear when they place that around your ... that medal around your neck, it's heavy," he said. "You feel the weight of it, what it all costs."

TM & © 2014 Cable News Network, Inc., a Time Warner Company. All rights reserved.