Boeing Machinists rally against 777X contract proposal


EVERETT, Wash. -- Twenty-three-year-old Sara Baumgardner is one of Boeing's new hires.

She's been on the job just three years and she's clearly voting no on the company's latest contract proposal that would ensure the new Boeing 777X airliner would be assembled in Washington state.

"Unions are about moving forward and all this company wants to do is take away everything we've fought for since 1935," Machinists union member Baumgardner said.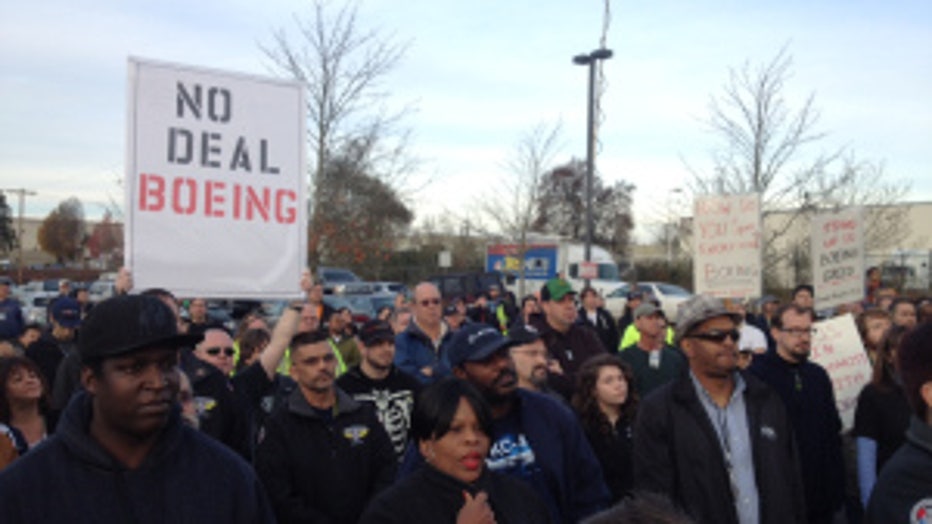 Bernard Braget, 66, who has nearly 30 years on the job, said he's voting no, too.

"It's something that our parents and grandparents and people in the neighborhood have fought for us to have and we're going to hold on to that, to pass on to our children and grandchildren," Braget said.

Just last week it seemed the union was ready to take the deal -- a crucial piece of the puzzle to ensure the 777X would be built here.

Union executives negotiated a proposal with Boeing to gain the 777X that would reduce workers' pensions, raise health care costs and extend the amount of time an employee could achieve higher-level pay from the current six years' experience to 16 years.  It would also provide each worker with a $10,000 bonus for ratifying the contract proposal.

"I was on strike four times to preserve the benefits that are in this (current) contract, and I don't want you to give it up, and I'm so happy y'all are against it," retired union member Henry Noble said.

On Monday morning, Gov. Jay Inslee signed into law a bipartisan bill to extend and enhance Boeing's incentives package, including tax breaks, funding for workforce training and education, and an easier permitting process.

He believes it's a great deal for everyone involved.

Inslee said he was signing it "to assure us the longest wing, the longest commitment and the deepest set of protections for machinists and taxpayers in the state of Washington in Washington state history."

"If he wants to be the governor that presides over the Walmart-ization of the aerospace industry, that will be his legacy," union member Wilson Ferguson said.

But some analysts say union members would be wise to take the deal because if they don't, the company will likely move the 777X and jobs out of state.

"It comes down to jobs or no jobs, or as I like to put it -- it's better to have 50% of something than 100% of nothing. I don't think it's a bluff. Back in 2008 when Boeing was talking about putting line two of the 787 in South Carolina the union said you're bluffing, you're bluffing. Well, they weren't bluffing and there's no reason to believe they would be bluffing today," Seattle aviation analyst Scott Hamilton said.

Union members will vote on the proposal Wednesday.