Body of missing 6-year-old Jenise Wright found: 'This is going to be a criminal' probe


BREMERTON — The body of Jenise Wright, the 6-year-old East Bremerton girl who has been missing since Sunday, was found in a wooded area near her mobile home park Thursday and her death is not believed to have been accidental, authorities said.

"This is going to be a criminal investigation, there's no doubt about that," Kitsap County sheriff's deputy Scott Wilson said at a late afternoon news briefing. "We suspect that she just did not go off by herself and fall into some bushes and die."

"It's tragic circumstances that bring us here," Frank Montoya Jr., FBI Special Agent in Charge of the Seattle office, said at the same news briefing at Jenise's Steele Creek Mobile Home Park.

He praised the operators of the FBI's K-9 teams. "The K-9s were so instrumental in actually locating the body of Jenise today," Montoya said. "We couldn't have done it without them."

The Kitsap County Sheriff's Office said in an earlier news release, "We are awaiting confirmation of the child's identity by the Kitsap County Coroner; however it appears that the body is that of Jenise. The family has been notified.

"An autopsy will be conducted by the county's forensic pathologist. The coroner will make a determination as to cause and manner of death."

The sheriff's office said the autopsy will be conducted Friday.

Thursday night, the sheriff's office said, "Initial results of the autopsy will assist detectives in narrowing the investigation toward a
possible suspect.

"The FBI's Evidence Response Team has finished their processing of the scene where the body was found. The Washington State Patrol's Criminal Investigation Division is forensically mapping that location."

Investigators went door to door in the mobile home park asking neighbors for DNA samples.






The sheriff's office said search teams located the remains of a body around 11:30 a.m. in "a forested area" in the vicinity of the mobile home park.

Wilson said it was an FBI team with specially trained dogs that found the remains.

No arrests have yet been made in the case.

"Sheriff's detectives are asking the public to assist them by providing any bit of information they have about activity in or around Steele Creek Mobile Home Park during the weekend of Friday, Aug. 1 thru Sunday, Aug. 3," the sheriff's office said, noting that the FBI tip line remains open. It is 1-800-CALL-FBI.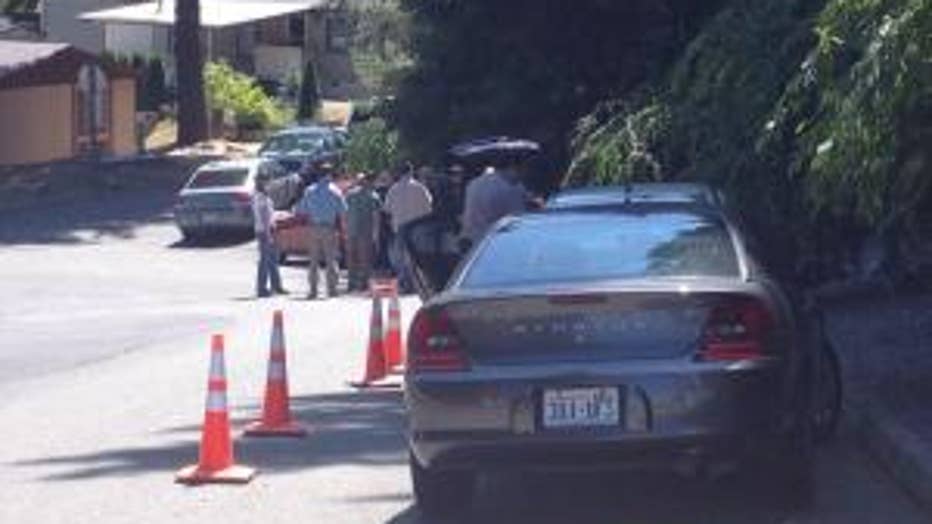 Authorities at Steele Creek Mobile Home Park


As late as 10 a.m. Thursday, officials said they were still holding out hope the girl would be found alive.

Jenise was last seen Saturday night at her home.

Jenise's parents have said they would allow Jenise to walk through the neighborhood on her own and thought she was out playing Sunday morning. When she didn't return home Sunday night, the parents called police.

The girl's disappearance struck the tight-knit community, and Kitsap County Sheriff's Deputy Scott Wilson said hundreds of tips poured in since Sunday on the missing girl.

This story is breaking and will be updated as more information comes in. For more on the search for Jenise, click here.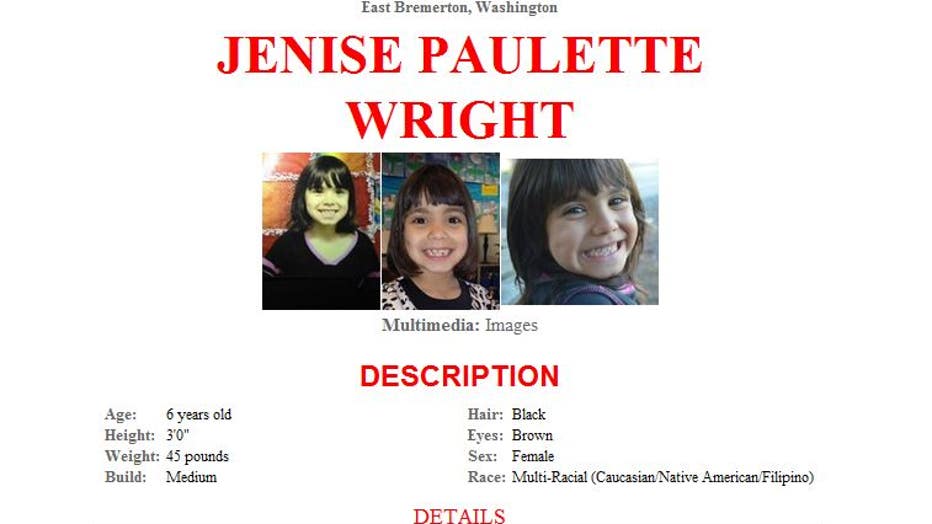 FBI bulletin on Jenise Wright.