Body found stuffed in shopping cart after man pushing it runs off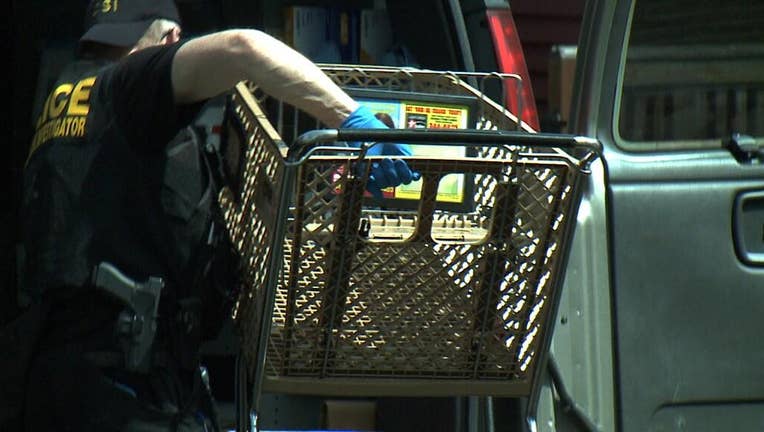 article
SEATTLE -- It's not unusual to see a homeless person pushing a shopping cart down a street in south Seattle.

But a neighbor was taken aback when she saw a man with dreadlocks and a baseball cap casually pushing a shopping cart filled with clothing down an alley near Martin Luther King Jr. and South Austin Street on Thursday -- and she noticed feet hanging out of the cart.

Hodan Mohamed learned what happened when her neighbor called her at work.

"She called me and said, 'Hodan, I see somebody in my back yard pushing a shopping cart and, you know, it's a body.' And I was, like, wow, OK, call 911 and she was like, 'I don't speak the language, they ask for too much information, can you do something about it?'"

But instead of calling 911, Hodan called another neighbor and that neighbor eventually called 911.

"When officers arrived, they found that there was a deceased human body inside the shopping cart," Seattle police spokesman Drew Fowler said.

The Seattle Police Department said fire officials determined the person had sustained fatal injuries, but that officials were still working Thursday night to determine the cause of death.



Witnesses say the man who was pushing the cart with the body was rummaging through trash can after trash can.

When a neighbor confronted him, he left the cart and ran away.

Officers searched the area but the man was nowhere to be found.

The delay in making the 911 call may have given the suspect time to get away.

"We, we keep everything to ourselves," Somali immigrant Faid Ugas said.

This is a very diverse community in this area of Seattle, filled with people from other countries.

Seattle police have said there is a problem here because some immigrants are reluctant to call 911.

"There's a gap. There's no connection between police and the community," Ugas said.

Ugas immigrated from Somalia two decades ago.

He says a language barrier is part of the problem, but the bigger issue is the lack of trust between police and the community.

"We don't get the help necessary we need from the police department and the city as a whole. They don't help the Somali community. They need to outreach to the community. They need to ask them, what are their needs? What are their problems?" Ugas said.

Officers in the South Precinct say they have encouraged everyone to call 911 when the need arises.

They say there are multilingual operators available and police stress they don't know there is a problem unless they get a call and time is critical.

If anyone knows anything about the man pushing the cart, police ask that you call 911.