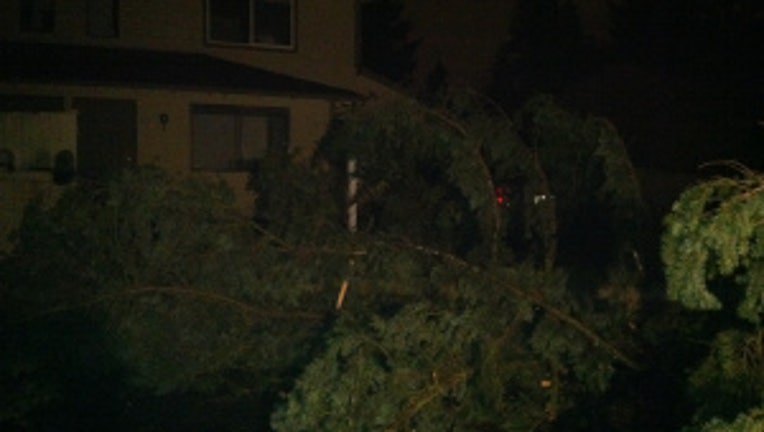 article


Wind and rain at times for everyone west of the Cascades. Peak wind gusts around Seattle 30-45 for the remainder of the day. Wind advisory for the Seattle area is set to expire at 4pm. Coastal areas and Cascades peak wind gusts 50-60mph. Expect blizzard conditions at all the NW passes for the next 24 hours. Blizzard Warning I-90's Snoqualmie Pass and Stevens Pass looks to continue until 6pm tonight.

Peak wind gusts as of 10 a.m. on Monday hit 60 mph in Hoquiam, 59 mph at SeaTac International, 53 mph in Long Beach, 46 mph in Tacoma and 37 mph in Olympia and Boeing Field.

Overnight, nearly 20,000 customers lost power around Puget Sound.With so much rain this month so far, we're seeing very saturated soils and it doesn't take much to topple trees with these conditions.

We've already seen our high temperatures in most locations. By the evening commute, we'll see temps in the Interstate 5 corridor hit the upper 30s. There will also be falling snow levels tonight for much of the region. Snow will be falling to about 1,000 feet west of the Cascades and sticking at or above 1,000 feet (like the Samamish Plateau).

I expect from about 500-1,000 feet (like the Highland Neighborhood of West Seattle or the top of Queen Anne Hill in Seattle), we might see a rain/snow mix or some fat snowflakes, but I don't see much accumulating beyond what we might see on rooftops, grassy areas and the roofs of cars.

We'll see another round of low snow levels to start off the day Tuesday and Wednesday morning as well.