Blue Angels roar into Seattle for Seafair! I-90 bridge to close during performances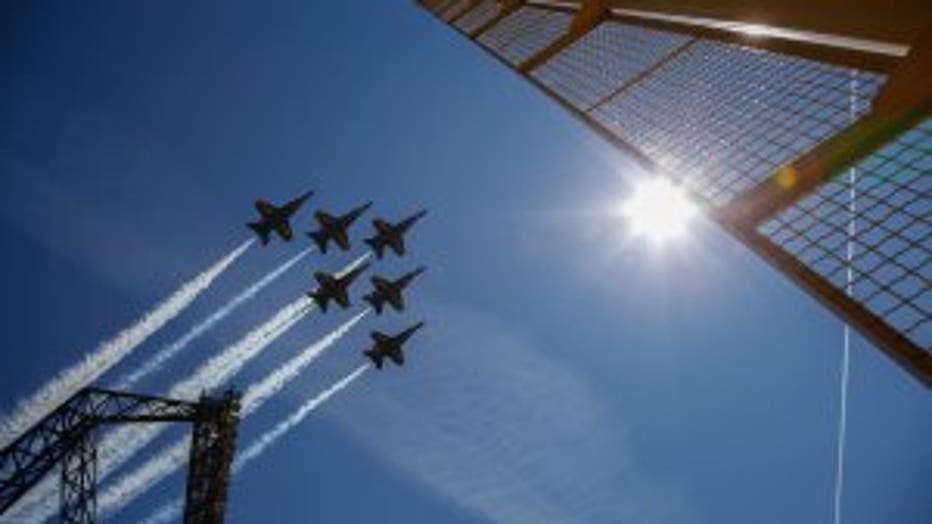 The Blue Angels fly over the ballpark prior to the game between the Arizona Diamondbacks against the Seattle Mariners at Safeco Field on July 29, 2015 in Seattle, Washington. (Photo by Otto Greule Jr/Getty Images)


SEATTLE -- Traffic in the sky is going to affect the roads below in Seattle this week, when the I-90 floating bridge will be closed several times to accommodate Blue Angels practices and performances.

The U.S. Navy Blue Angels are expected to arrive at Boeing Field on Monday to start preparing for the Boeing Seafair Air Show.

If you need to cross Lake Washington during flight times, you'll need to find an alternate route -- such as I-405, State Route 520 or SR 522 -- or leave before after the closures.

The closures, which will begin Thursday, will stretch from the I-90/I-5 interchange in Seattle to Island Crest Way on Mercer Island.


The floating bridge will be closed at the following times:


Why the closures?

"The FAA requires a safety zone around and below the area where the Blue Angels practice and perform. These horizontal and vertical restrictions are in place to protect the public, property and pilots. This zone, also called "the box," covers part of Lake Washington and the floating bridges - hence the closure. Additionally, keeping drivers off the bridge while the Blue Angels are in the air keeps drivers from being distracted and prevents collisions on the bridge."

Click here for more details on specific ramp closures and times.