Black Friday shopping rush starts early; couple hit by SUV in Covington Walmart lot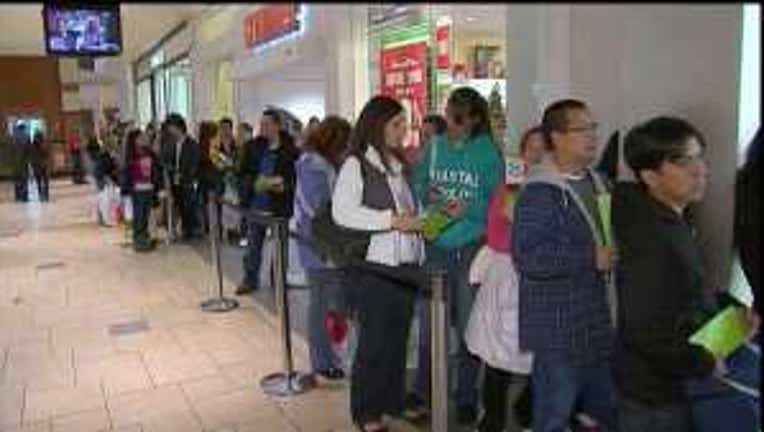 TUKWILA -- No stampedes, no pushing.

Hundreds of shoppers who had waited for hours outside in the cold calmly filed into the Toys R Us store in Tukwila for Black Friday deals when the doors opened at 8 p.m. Thursday.

Kelly Rae waited in line for more than eight hours on Thanksgiving Day. She said it was worth every minute.

"This is actually my very first game console, ever," she said. "It's like the best deal -- $200 dollars off tonight."



Tara McKee is an experienced Black Friday vet – "we usually pull an all-nighter," she said as she sat next to a friend. She had her shopping spree all planned out. Well, almost.

"I'm just going over the list to make sure I'm not missing something," she said.

While the lines of shoppers may have been calm, the Southcenter Mall parking lot was packed, and frustrated drivers were blasting their car horns at each other.

In Covington, a man and a woman were hit by a SUV in the Walmart parking lot shortly after 8 p.m. Thursday as they were walking toward the store, the King County Sheriff's Office said. The couple was taken to Seattle's Harborview Medical Center for treatment. The woman was in serious condition, the man in good condition, sheriff's spokeswoman Cindi West said.

The 71-year-old driver of the SUV was arrested for vehicular assault, West said.

The parking lots were probably the most dangerous part of the late night shopping madness.

Some stores, like Best Buy, waited until the stroke of midnight to open their doors for shoppers.

"I'm looking for a microwave," said Patricia Belasco. "Today is the day is good time to get something cheap."

An estimated 150 million people were expected to leave the dinner table and go straight to the store. The holiday shopping season comes earlier every year and stores are opening earlier than ever before.

Outside the Best Buy store, shopper Sabra Johnsen, who had been waiting for hours, said, "I'm having a great time."

"I want a 40-inch TV to go with my PlayStation 3. And I want a tablet because I ride the train every day like a hard-working citizen," she said. "I feel bad for that person working that day. It's time (Thanksgiving night) to stay at home, you know?"

Some Walmart shoppers plan to go on strike on Black Friday. Employees in Renton are scheduled to walk out at 9:30 a.m. Friday. Workers are also expected to go on strike at Walmart stores in Mount Vernon and Port Angeles.