Billboard turns heads: Is it a 'wife's revenge'?


GREENSBORO, N.C. (MyFOX8/WGHP) — A billboard on Battleground Avenue in Greensboro is getting a lot of attention. The ad claims to be from a woman named Jennifer who is calling out her alleged cheating husband, Michael.

"Oh my," said Stephanie Sorkin who stopped to read the billboard. "That is hilarious."

The message reads:

Michael,
GPS Tracker – $250, Nikon Camera with zoom lens – $1600, Catching my lying husband and buying this billboard with our investment account, – Priceless.  – Jennifer.

The billboard also makes a note to Michael's alleged mistress, Jessica.

"Tell Jessica you're moving in!"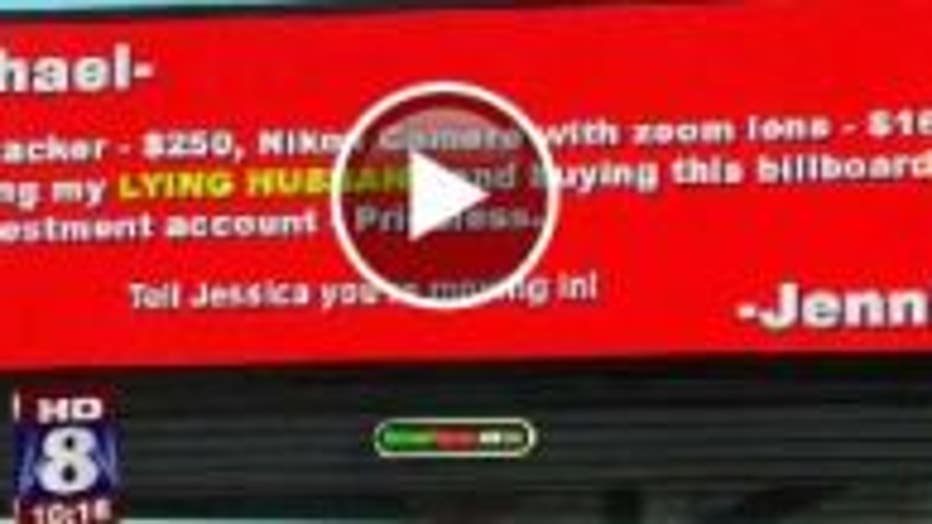 "The little message to Jessica is perfect," said one woman looking up at the billboard. "I wish I had done that in an earlier relationship."

The billboard has turned a lot of heads and even slowed down traffic along Battleground Avenue Wednesday afternoon.

Outdoor Signage, the company that owns the billboard, just recently erected it, leaving many questioning if it's a marketing ploy.

A person from the company's Facebook page messaged, "We cannot comment on the billboard content right now. We have asked the sponsor for a statement based on your inquiry."

The billboard also went viral online after WGHP-TV reporter Chad Tucker posted a picture on his Facebook page. The picture was seen by more than a half-million people in less than three hours.