Bill would raise minimum wage statewide to $12 an hour
OLYMPIA, Wash. -- Washington state Rep. Jessyn Farrell, D-Seattle, introduced a bill Thursday that would raise the statewide minimum wage to $12 an hour over three years.

The bill would increase the minimum wage from the current $9.32 an hour to $10 in 2015, $11 in 2016, and finally to $12 in 2017. After that, the wage would again be tied to the consumer price index.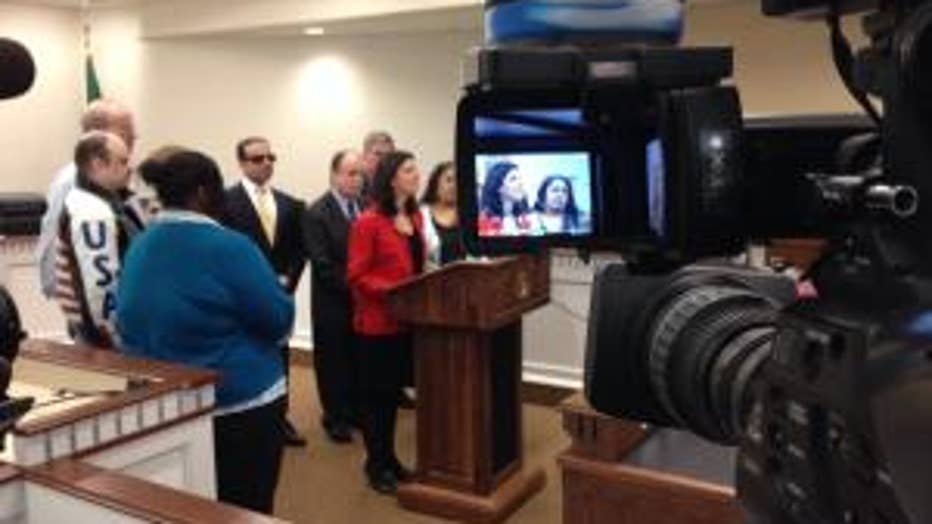 State Rep. Jessyn Farrell, D-Seattle, at podium in Olympia, announcing her bill to raise minimum wage to $12 an hour. (KCPQ-TV/Seattle)


"We know our economy is stronger when an honest day's work is rewarded with a fair wage," Farrell said. "During the recovery, top earners have done quite well, the stock market has seen record highs, and corporate profits have never been better. This bill rewards work, moves the economy forward, and promotes fundamental economic fairness."

Gov. Jay Inslee, a Democrat, called for an increase in the statewide minimum wage during his State of the State Address.

Inslee issued a statement in response to Farrell's bill: "The rising tide of productivity and prosperity isn't raising all boats. Too many hard-working men and women in Washington are falling further behind, impacting not just the prospects for those workers and their families but the prosperity of our state as well.

"That's why I called on legislators to join me in this conversation and I want to thank the House majority for putting forth a common sense plan for providing a fair wage for more Washingtonians.  My staff and I will carefully review the bill as we continue to talk with stakeholders and members about the best path forward to ensuring more Washingtonians share in our state's prosperity."