Bertha now won't dig again for nearly a year: Who pays for this?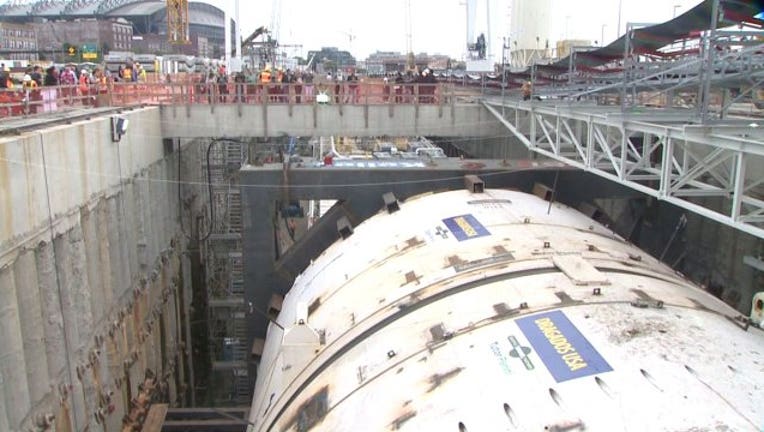 article


SEATTLE -- The State Route 99 tunneling machine won't resume digging until the end of March 2015 the Washington State Department of Transportation said in a release Monday, possibly delaying the tunnel completion.



The major announcement is perhaps the biggest revelation yet in a project that has been riddled with problems since the $80 million machine began work in 2013.

Seattle Tunnel Partners, the project's design-build contractor, will dig a pit in order to access the stalled tunneling machine later this month. The pit is the first in many steps to get the machine moving again. Other repairs outlined in an STP timeline include:


Officials had previously said the broken tunneling machine would take "months" to fix and set a previous start date of Sept. 1. But the new timeline approaches a year.

Chris Dixon, Seattle Tunnel Partners project manager said the new timeline is indeed disheartening, but they hope to make up time once the project is running again.

"Resuming tunneling will take longer than any of us would have liked, but making these repairs is a significant engineering challenge that must be done safely," Dixon said.

Despite the delays, officials still hope to meet the tunnel's original opening date.




The repair schedule will include additional time to accommodate potential improvements to the machine that STP or the machine's manufacturer, Hitachi Zosen Corp., might choose to make after the cutterhead is removed and crews are able to perform a full inspection, WSDOT said.

The question remains if Seattle tax payers will be held accountable for project cost overruns as the world's largest tunneling machine sits idle 60 feet underground. WSDOT says there is no indication that taxpayers will be responsible for any cost overruns.  

But STP is not taking full responsibility for costs. They say there may be evidence that could take them off the hook but further analysis is needed.


Bertha began digging on July 30 and is only around 1,000 feet into the dig, about one-eight of the tunnel's total distance. The beleaguered Twitter handle @BerthaDigsSR99 began tweeting again shortly after the news broke, with distinctly less wit than previous tweets.




Twitter reactions were largely negative after the news broke, with many questioning the city's choice to build a tunnel in the first place.




This story will be updated as more information becomes available.