Bertha idled again: Sinkhole opens up about 35-40 feet away from Alaskan Way Viaduct


SEATTLE -- 'Bertha' is idle again, this time due to a sinkhole that opened about 35 feet north of the tunneling machine's access pit.

The contractor, Seattle Tunnel Partners, said a sinkhole, which is  about 30 feet wide and 15 feet deep, opened up Tuesday night.  It is located more than 100 feet south of  Bertha's cutterhead's current location, in ground that crews mined through last week. STP filled the sinkhole overnight with 250 cubic yards of concrete.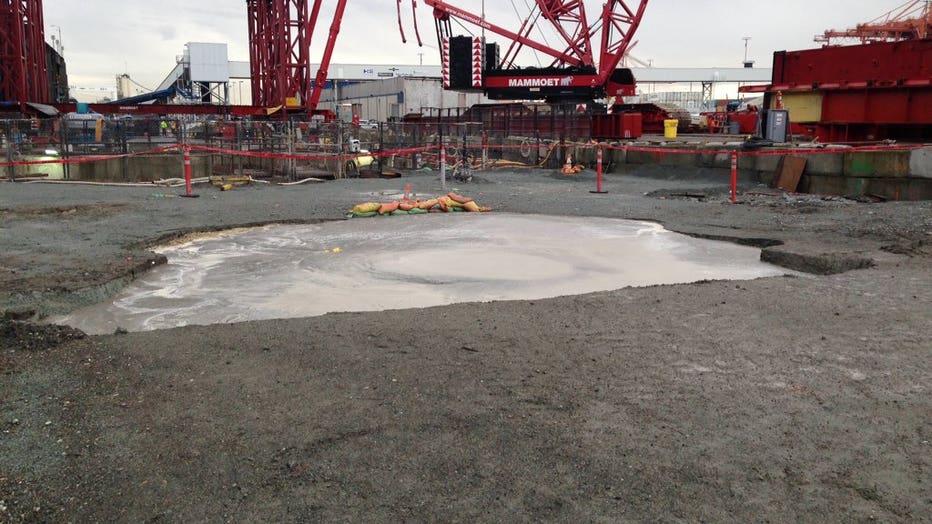 Here is the sinkhole that opened up Tuesday night near the Seattle tunnel project.


This section of the tunnel drive is protected by an underground wall built by STP before tunneling. The wall was designed to isolate ground movement and protect the nearby Alaskan Way Viaduct. A manual survey of the viaduct conducted after the sinkhole developed found no movement.

However, the cause of the sinkhole is still under investigation.

But there is another issue standing in Bertha's way.  A barge being filled with dirt from the tunnel dig site began to tip and banged into the pier pilings, damaging them. Currently, no dirt can be removed from the dig site and no drilling can be done. But STP said they plan to resume tunneling this week using trucks to remove excavated material.