Below-freezing temperatures set to sweep the country
The cold is taking hold of the US weather pattern for the next week. Over the next seven days, 80% of the country will at some point see temperatures below freezing.

Over half of the continental United States will have below-average temperatures Thursday. High temperatures will be 20 to 30 degrees below average in locations stretching from Montana to West Texas.

Lows in the Northern Plains were already below zero Thursday morning, and with the wind, it felt like 20 to 30 degrees below.

Snow contributed to a 30-car pileup on Interstate 96 in Fowlerville, Michigan. Police reported two deaths.




A strong storm entering the Northwest will bring snow Thursday and Friday, not only to the mountains but to lower elevations as well.

About 10 million people are under winter storm warnings and winter weather advisories in the West.

Snow will spread throughout the region, with feet of accumulation expected in the mountains. Portland, Oregon, and Seattle will get a couple of inches.

After exiting the West, this system will leave a swath of snow as it passes over the Northern Plains and southern Great Lakes this weekend.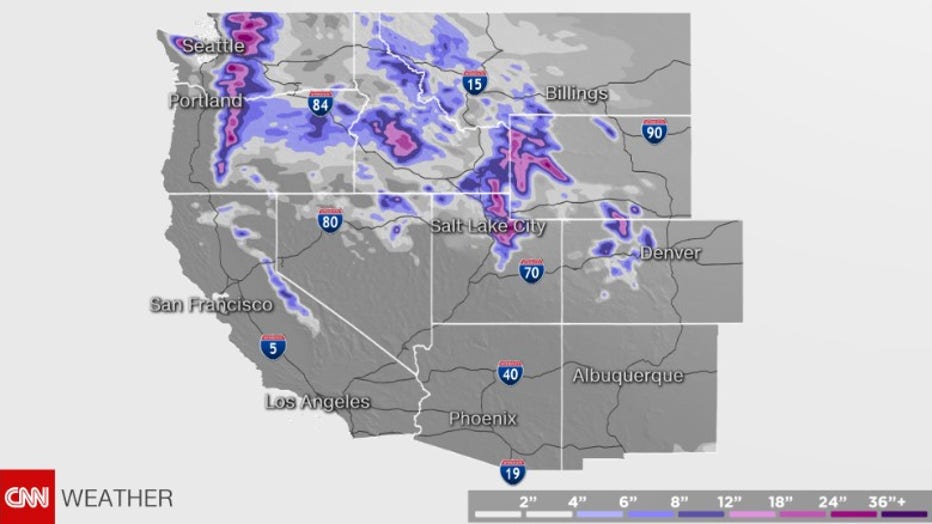 Cold air will push into the Northeast and Southeast on Friday, with subfreezing low temperatures reaching the Gulf Coast by Saturday morning.

Another, even colder air mass is forecast to enter the Midwest and Northeast late next week.

According to meteorologist Ryan Maue, the upper-level atmosphere configuration looks very similar in scale and magnitude to the January 2014 "polar vortex" that left the country in below-average temperatures for days. Luckily, next week's cold spell will last only a few days.

Lake-effect snow will begin along the southern and eastern shores of the Great Lakes on Thursday and last until early Saturday. More than 4 million people are living in areas covered by a lake-effect snow warning, watch or advisory.

The heaviest snow bands could bring over a foot of accumulation in the Upper Peninsula of Michigan and nearing 2 feet in parts of upstate New York.