Bellingham couple donates scooter to Olympia girl with disabilities
UPDATE: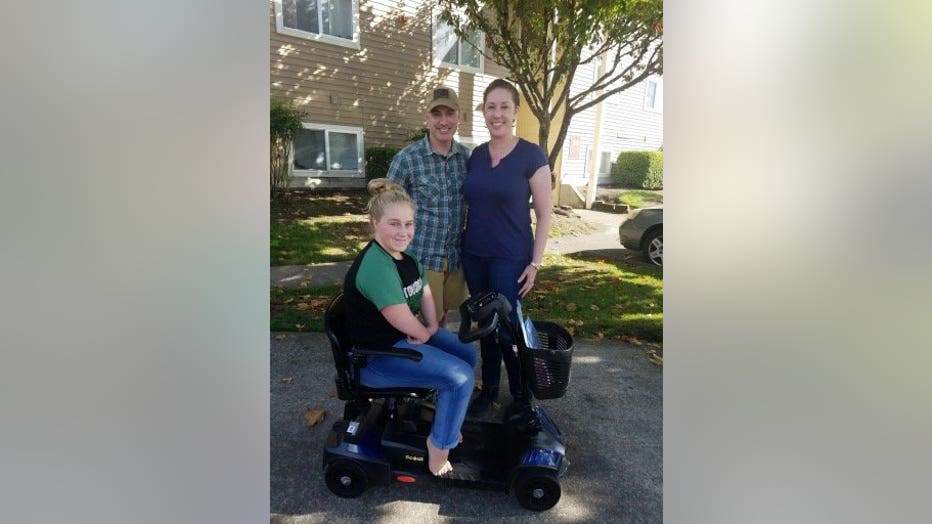 An Olympia girl can once again use an electric scooter to get to and from the bus stop, thanks to a couple from Bellingham.

13-year-old Haylee Roberts has disabilities which makes walking to the bus stop hard. The $2,000 scooter was a lifesaver. Until it was stolen on Friday.

But less than 24 hours after being featured on Q13 News, Haylee's mother Tina received good news.

She told us after the story ran she got an outpouring of support from the community and on social media.

"A wonderful couple, Kim and Randy Kirsch, from Bellingham, donated this scooter to Haylee," Tina wrote on Facebook.

Thieves were able to take the scooter relatively easy because it wasn't tied down to anything. Tina told us they are buying a lock for the scooter on Sunday.


---


OLYMPIA, Wash. - An Olympia family is asking for help to find an electric scooter that was stolen from their apartment complex on Friday.

"When I came off the bus and went to it, it was just gone," said 13-year-old Haylee Roberts.

Her scooter helps her get around with a physical disability that makes it tough for her to walk to the bus stop every morning and afternoon.

"So we got her a scooter, we worked months and months to get a scooter," said Haylee's mom Tina Roberts.

Tina Roberts says they got the electric scooter just four months ago. She says it's valued at around $2,000 and is specially configured to Haylee's arms and legs.

Every morning Haylee gets on the scooter from her apartment and rides it to her school bus stop where she leaves it.

"I turn it off and take the key and get on the bus and it stays here all day," said Haylee Roberts.

The scooter wasn't tied down to anything. It was sitting out in the open near the mailboxes of their complex where it has been sitting every day for the past four months.

"Everyone here at the apartments knows she does this, so we feel it was safe here on the property," said mom Tina Roberts.

Friday afternoon when Haylee came home and the scooter was missing it was a painful reality.

"Maybe we trusted a little too much," said Tina Roberts.

Haylee says the walk home that afternoon without her scooter was very painful too.

"My feet sometimes start going numb, it'll just be really painful. It was really hard to come home and not see it and I had to walk back all the way to my house, it was really hard, it was really hard," said Haylee Roberts.

Tina Roberts says they've been through a lot over the past few months with Haylee's doctor's appointments and with Tina starting a new job she says things in life finally started to settle down.

"I'm a single mom of three kids, I just started work," said Tina Roberts.

The scooter, she says, was their lifeline to help Haylee stay more independent and allow Tina to stay at work without worrying about coming to pick Haylee off the bus in the afternoon.

"This was her way around, my way to get back to work, and to refuel like okay we're good, we've got a plan, she can do this on her own," said Tina Roberts.

The family says they don't understand why anyone would steal a child's electric scooter and they don't need to know why. The Roberts' say all they want is the scooter back, no questions asked.

"Please bring her scooter back. she needs it. We can't afford another one. If anybody knows anything we don't need to know any details. Just please bring it back," said Tina Roberts.

The Facebook posting asking for help to find the scooter has gotten more than 340 shares. Tina says she filed a police report with the Olympia Police Department and anyone with any tips is asked to contact Olympia Police at (360) 753-8300.