Bellevue escalator accident: 'We were halfway up and started hearing crashing...'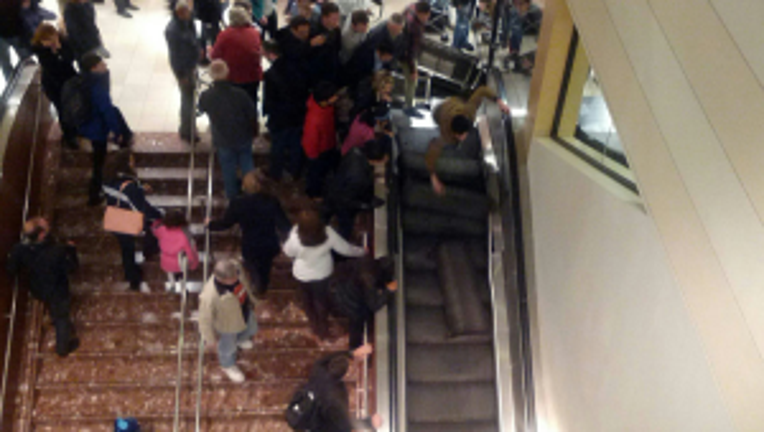 BELLEVUE -- A Bellevue grandmother had quite a scare when an escalator she was riding on with her granddaughter malfunctioned Thursday night inside the Macy's at Bellevue Square Mall.

"We were at Snowflake Lane and decided to beat the crowd so we walked into the Macy's door at Bellevue Square and we were on the escalator going up," Sally Davidson said. "We were halfway up and started hearing crashing and metal; it sounded like someone threw a garbage container off a building. It was terrible."

Davidson said she saw the metal steps at the top lifting up into the air, and immediately knew she had to act fast. Her husband grabbed their granddaughter and they ran down the escalator.

The Bellevue Fire Department said one man in his 30s received minor injuries.



Robert Dallain, the general manager of Bellevue Square, said the escalator was the original one installed in the department store when the mall opened 30 years ago, but that it is inspected regularly.  The state Department of Labor & Industries reports the last inspection was in February, when they found a burned-out light.  In 2010, inspectors found broken teeth on steps that were repaired.

Friday morning, before the mall opened, inspectors looked at all escalators in the mall, making sure they were safe, management said.  Some shoppers there said they will take the stairs from now on; others think this was just a freak accident.

"With anything mechanical, it breaks," one shopper said. "That's just an inevitable thing.  If they have to institute better quality control to make sure these things don't happen during the busy holiday season, that needs to be taken into account."

The state requires all escalators to be inspected once a year.  This particular one has been inspected five times since 2009.  An investigation is under way into what caused the escalator to malfunction.