Beijing-bound flight returns to Sea-Tac after passenger assaults attendant
SEATAC, Wash. -- Delta Air Lines Flight 129 en route from Seattle to Beijing was forced to return to Seattle-Tacoma International Airport on Thursday night after a passenger assaulted an attendant and had to be restrained, an airport spokesman said.

The unruly, first-class passenger was taken into custody after the plane landed, Sea-Tac spokesman Perry Cooper said.

Cooper added that the assault occurred about 45 minutes into the flight.  He declined to say what led up to the assault, but said passengers helped restrain the man until the plane landed back in Seattle.




Cooper said the passenger never attempted to enter the cockpit, despite an earlier report to the contrary.

Two people, including the flight attendant, were injured and taken to a hospital with non-life-threatening injuries, he said.

Delta issued this statement: "Flight 129 returned to Seattle following a security incident with a passenger. The passenger was restrained onboard and was removed from the flight by law enforcement without further incident when the aircraft arrived back in Seattle. The flight is scheduled to re-depart for Beijing later this evening."

The FBI interviewed the plane's passengers at Sea-Tac and added, "There is no information at this time to suggest a national security threat."

The aircraft, a twin-aisle Boeing 767-300ER, was re-boarded late Thursday night to resume its flight to Beijing.

 

Delta Flight 129 took off from Seattle-Tacoma International Airport at 5:24 p.m.  It turned around and landed at Sea-Tac at 7:09 p.m.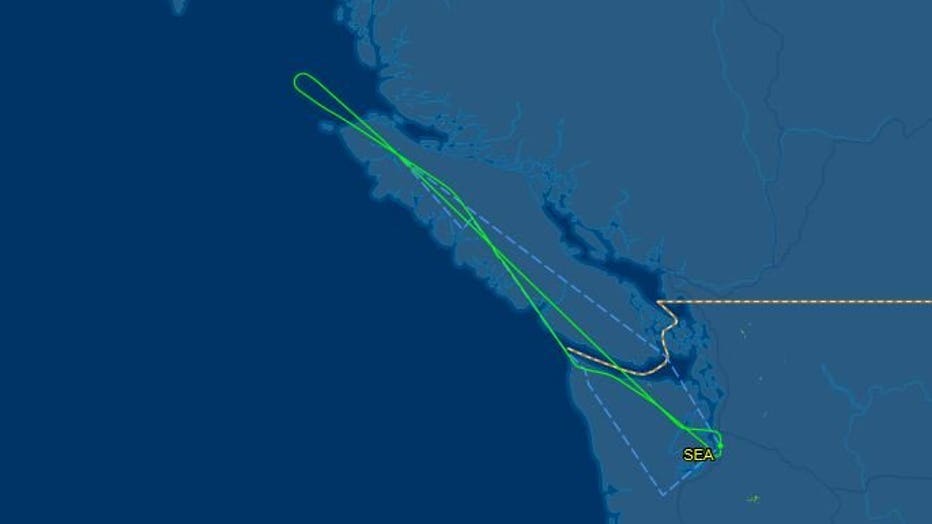 This FlightAware.com image shows the flight path of the Delta flight that left Seattle for Beijing and then turned around to return to Sea-Tac.