Beer goggles and golf carts: Students schooled on distracted driving


SNOQUALMIE, Wash. -- At one local high school, officials are using the excitement of prom and graduation to teach a lesson that might save lives.

Using the football field at Mount Si High School as a test course designed to stress the dangers of distracted driving, students were encouraged to hop behind the wheel of a golf cart and try to send a text or don beer goggles while driving on the simulated course. The program is part of "Think and Drive Week" that the school has run for the past five years.  School officials and state troopers hope the distracted driving course, and its lessons, would go a long way in keeping disengaged students off the road.

"It happens all day long, in bumper-to-bumper traffic and at high speeds, it's killing people," Trooper Julie Judson said.

It's not just Mount Si High that benefits from the program -- WSP makes visits to schools throughout the area.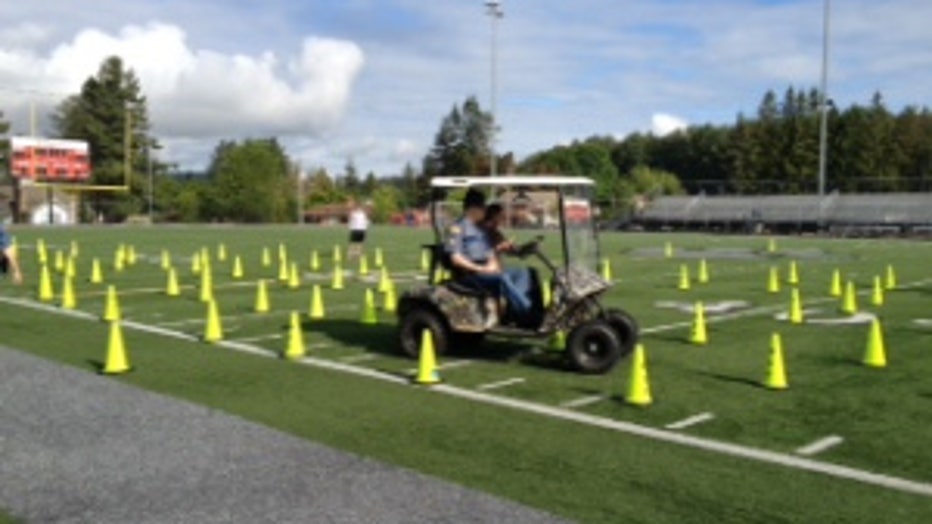 Mount Si graduate Rachel McNaul was hit by a DUI driver on Interstate 90 in 2009. She broke 20 bones and spent a month at Harborview Medical Center recovering from her injuries. Now a teacher at Mount Si, McNaul uses her experience to educate students as to the dangers of distracted driving.

"I need to let them know how the consequences of the actions you make could affect you," McNaul said.