Beast Mode dishes up Thanksgiving meals for those in need at annual dinner in Belltown
SEATTLE -- Recently retired Seahawks running back Marshawn Lynch spent much of Thanksgiving Day in the kitchen at Amber Restaurant and Lounge in Belltown dishing up meals for those in need.  Beast Mode was among the dozens of volunteers for the annual Thanksgiving For All dinner I started with Mustapha Rafa, Dino Slatina with Sarajevo Restaurant and DJ Manny Hendricks 6 years ago.

Lynch's Fam 1st Family Foundation even handed out jackets, socks, and gloves.

"On a cold rainy day like today, it's awesome," said Michael who was also grateful for the hot meal.

Amir Azer with Tia Lou's Nightclub asked Lynch to join the effort to make sure nobody was forgotten this holiday.

"Both our backgrounds. We come from nothing, so it means a lot to both of us to be here today. A lot of these people, they don't' have family," said Azer.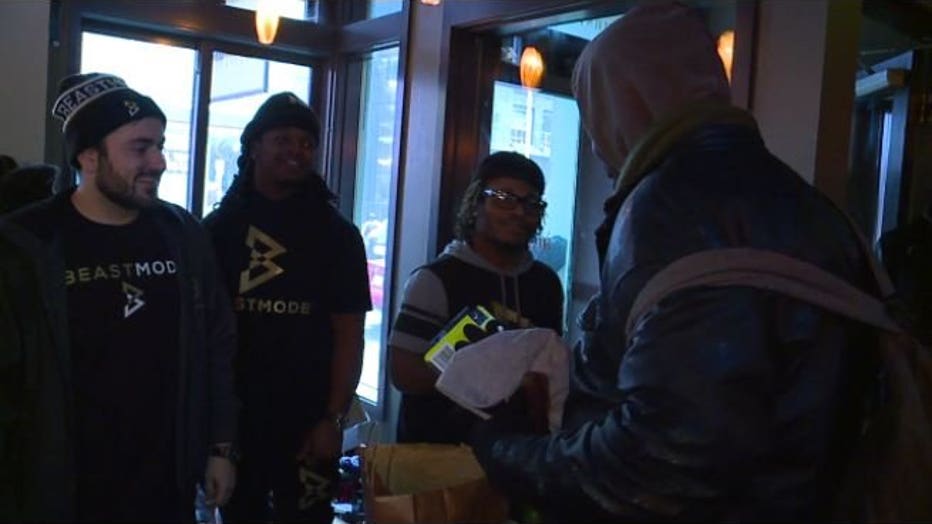 Family is what the dinner was all about. 8-year-old Kylie Lor asked her mom if she could volunteer to waitress for the second year.

"I'm thankful for everybody in my family that's loving and caring, and I'm thankful for what I have," said Lor.




With 24 turkeys and all the sides to prepare and serve, there were plenty of jobs to go around.

"First, I started taking turkey off of bones. It was really, really hot. Then they moved me to dishwasher. I volunteered to go back to turkey and then dishwasher. You just do a little bit of everything you can do to help," said Zetron VP and General Manager of Sales, Wayne Foret.

Gazelle Williams brought scarves and hats to hand out that were made by her friends.

"In this environment today, we need to think about other people and make sure they`re being taken care of, and this is a good way to do it," said Williams.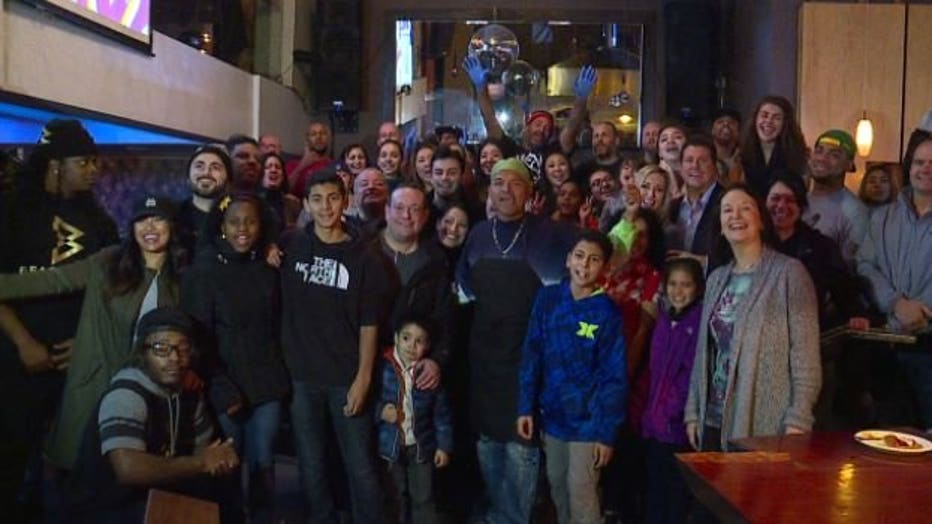 Volterra Chef and owner Don Curtiss started cooking the turkeys at 6 a.m. using salt, pepper, rosemary, thyme sage and garlic for flavor.

"Empty plates are always good, and they're taking them to go to, so that means there's gotta be something going on there," said Curtiss.

Diners like Laurel agree. "I think it's good! I mostly got dark meat, but I love the dark meat," she said.

This was the second year the event was held at Amber.

New owner Ryan Lewis says he wanted to make sure people in his community got a hot meal.

"We have this tremendous kitchen here and why just let it sit when we have so many great and lovely volunteers," said Lewis.