Beacon Plumbing owner's donation raises reward to $36,000 in Pacific County murder of Jeff Beach
-- June 3, 2018
"We were in tears," said Keith and Laurie Beach after learning of a generous donation to help solve their son's murder.  At the 2nd Annual Crime Stoppers of Puget Sound fundraiser at Rigoletto restaurant in Seattle's South Lake Union neighborhood Sunday,  Beacon Plumbing Services owner Bill Cahill announced he is offering $25,000 to raise the reward for tips that lead to an arrest in Beach's case to $36,000.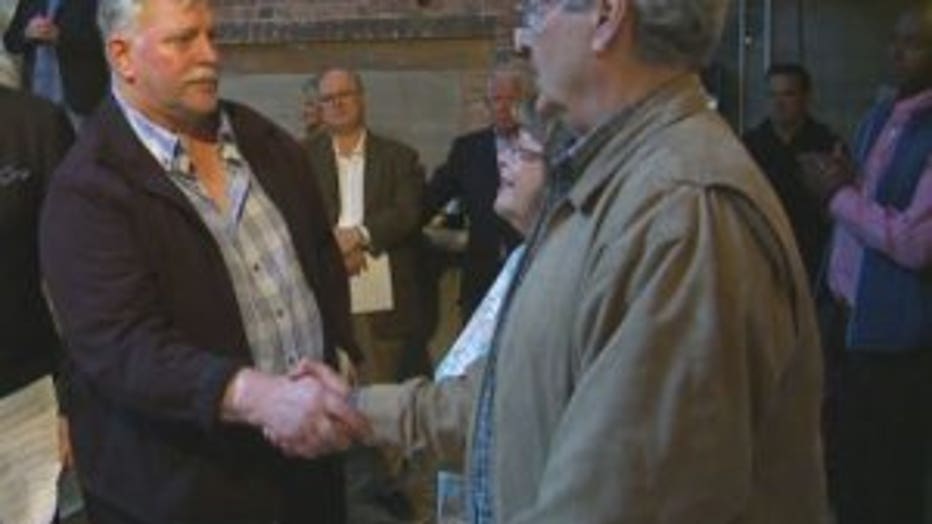 Beacon Plumbing's Bill Cahill with Keith and Laurie Beach after announcing $25,000 donation to raise reward in Jeff Beach's murder


Cahill's sister was murdered in the 1980's so he understands what the 36-year-old victim's family is going through. He hopes the reward is large enough that criminals take notice. "Maybe they're gonna roll over on someone they didn't like that much anyway and this family can have closure to a case that's unsolved," said Cahill.

"Our family is still sitting in a place almost three years later without having access to his autopsy report, toxicology report, to any of the police investigations because the case is still open and the Sheriff's department can't share any of that with us. So, this is incredible," said Beach's dad, Keith.

Jeff was visiting Long Beach when he was murdered on July 4th weekend of 2015.  The new reward amount gives his mother hope that somebody does care.  "Sometimes, I feel like I'm on a roller coaster. One day, I will have a high and another day it all kind of comes crashing down when you remember," said Jeff's mom, Laurie.

If you have any information on the murder of Jeff Beach, you can remain anonymous and submit a tip to Crime Stoppers of Puget Sound via the P3 Tips App on your phone or at www.P3Tips.com. You can also go to www.P3Tips.com to send the information to law enforcement via Crime Stoppers.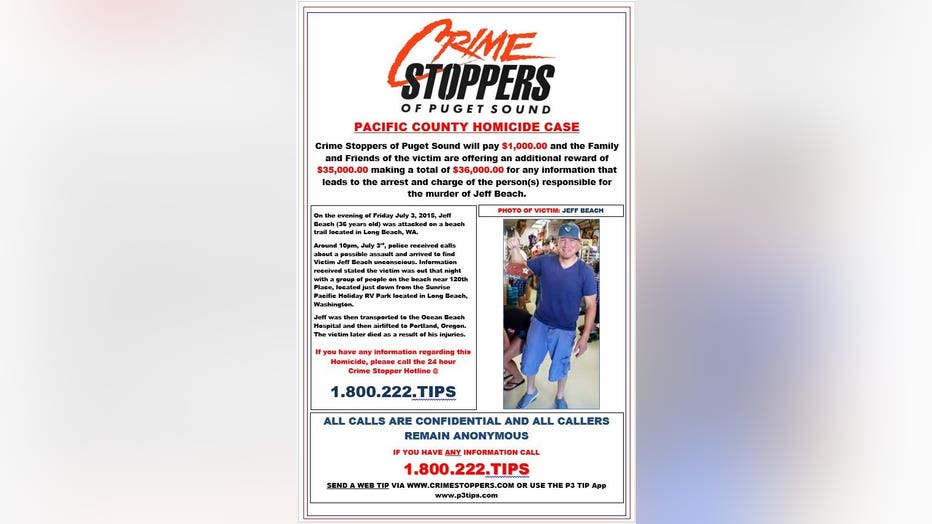 LONG BEACH, WASH -- Oct. 9, 2017

Pacific County Sheriff Scott Johnson is making a personal appeal for tips to solve the murder of Jeff Beach on July 4th weekend in 2015.  "Very frustrating. Every day we go to work, this is on our minds," said Sheriff Johnson.  The 36-y

ear-old was at a small party of friends when he was attacked twice. "This crime occurred on the Long Beach Peninsula, actually on the ocean beach, not far from Highway 103. One occurred on the beach, in front of some other people, by some unknown assailants, then a short time later, he was walking on a trail, going back to where he was staying and while he was walking on the trail, he was violently assaulted," said Sheriff Johnson.

Beach died of a traumatic injury to his brain. "This is a solvable case and we know if somebody will come forward to help us we can get that last tip or two that we need to make an arrest. 3 Unfortunately, we can`t always disclose everything we know about a case and we do have some good information but we need a few more pieces that we know some citizens, or some members the public know that can help us solve it," said Sheriff Johnson.

 

So now, Crime Stoppers of Puget Sound and Jeff Beach's family are giving anyone with information on the case a huge incentive to come forward – a $10,000 reward.

Keith and Laurie Beach say their son loved baseball and softball. "Jeff's position was 3rd base. Jeff played ball, varsity ball in high school, played softball with teams that have gone to national tournaments."




We recently talked to Jeff's parents at the Russell Road Sports Complex in Kent. "This is a very special place where he spent time with teammates spent time with friends. After his murder, it's where his friends held his memorial. Jeff's mom showed us a special bat honoring their son. "My cousin gave one to each of us," said Laurie. "It says, 'In memory of Jeff T. Beach, 1978 to 2015. He went to bat for others.'"

Pacific County deputies say he was attacked and killed for sticking up for some women who were being harassed or abused.  Jeff had been out that July 3rd night in Long Beach with a group of friends near 120th Pl., just down from the Sunrise Pacific Holiday RV park. He was found  on a trail through the dunes.

Jeff's dad has a message for his son's killer. "First of all, I want to tell them that we forgive them," said Keith. "I want them to come forward. We want to understand what happened that night. Things are pretty sketchy.

There are still so many unanswered questions. "It`s tough," said Laurie. "I think not having closure makes it tougher, because there`s a lot of things we don`t know."

Their hope is that somebody will have a guilty conscience and finally come forward. They're partnering with Crime Stoppers of Puget Sound to offer a $10,000 reward to help solve Jeff's murder. "The fact remains we know somebody is out there that committed this crime, or knows about it and we're challenging that person, or persons to come forward with the information, so that we can at least bring some closure to this family," said Ret. Det. Myrle Carner with Crime Stoppers of Puget Sound.

Jeff is the second child Keith and Laurie have lost. Their daughter died when she was 17. "You know, you work all your life, so that when you come time to retire that you can spend it with family, grandchildren and that`s something I`m not going to have," said Laurie. To fight that feeling of loss and helplessness, they are continuing to share his case, knowing all it takes is one witness to do the right thing. "We`re really hoping that either the cowards that did it, or someone who knows the cowards that did it will step forward and provide the authorities with a little bit of information, so that they can hold those people accountable for what happened," said Keith.

Jeff was at Long Beach for a softball tournament being played over the holiday weekend.

His parents are having to live with the loss of their son -- and without justice for his murder.

Someone knows who the killers are and it's time to come forward.

The call to Crime Stoppers is anonymous -- no one will know your name -- and again, that $10,000 reward will be yours if your information leads to the arrest in the case.

The number to call is 1-800-222-TIPS, or use the P3 Tips App to submit your information to Crime Stoppers.