Bald eagle shooting an 'egregious violation' of law, officer says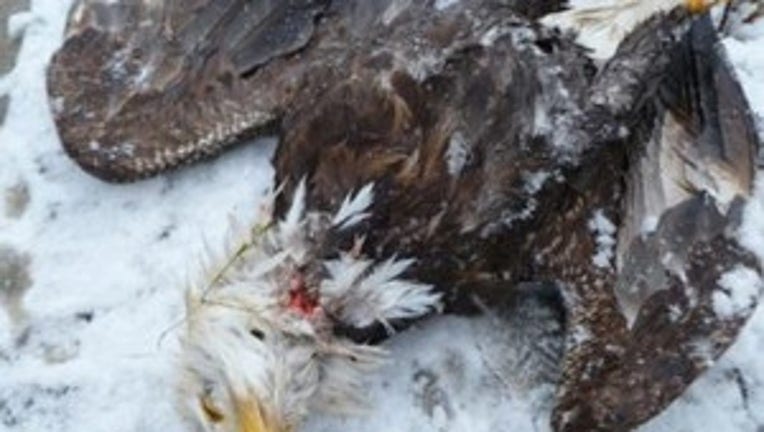 SNOHOMISH COUNTY -- Four dead eagles found floating in a lake east of Granite Falls, Wash, were shot and killed by a small caliber rifle, wildlife officers said Thursday.

According to officers, each bird was shot and left to die sometime last week. Local wildlife officials are calling it one of the worst examples of cruelty to the iconic birds they have ever seen.

"In 11 years that I've been an officer, I've never seen anything like this,"  Dead eagles certainly but not a poached eagle," Washington Department of Fish and Wildlife Police Sergeant Jennifer Maurstad said. "Bald eagle feathers can be sold for a hefty price but these wings of liberty were untouched."

Maurstad called this an act of cruelty against an already threatened national symbol.

"This is an egregious violation," she said. "Bald eagles are still considered protected both state and federally. It's just a completely brazen act."

Matt Hartman has lived in Granite Falls for almost a decade. His property backs up to this picturesque lake not far from where the dead eagles were found. He can't imagine anyone killing a bird he has grown so fond of seeing on a regular basis.



"I think it's absolutely horrible," Hartman said. "To think that those beautiful animals that are protected are being slaughtered like that. It makes you sick."

He hopes the person responsible is caught quick.

Hartman said, "I have no clue what drives a person to do something like that because it doesn't make any sense to me."

"It's a symbol of our nation," Maurstad said. "To single out that bird. It's just so brazen and cowardly and I'm certain we will find whoever is responsible for this."

Killing a bald eagle is a misdemeanor. The penalty is a fine of $1,000 and up to 90 days in jail. A hefty reward of over $13,000 is being offered for information that leads to an arrest and conviction in this case.