Attention same-sex couples, Seattle wants you to come visit and get married here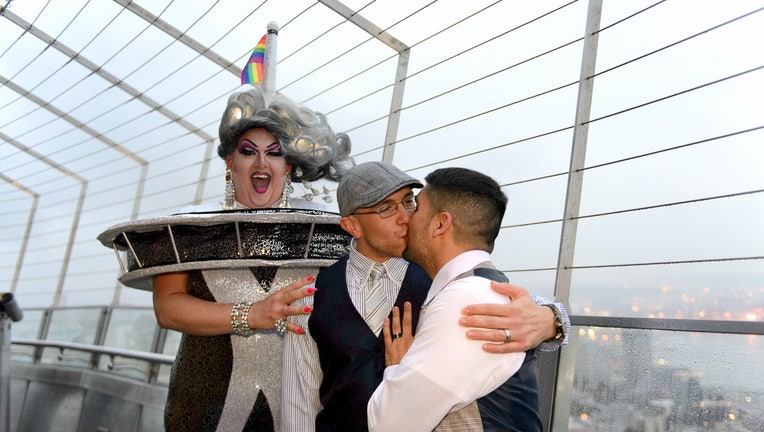 SEATTLE --  Seattle tourism boosters are hoping to convince gay couples across the country to come visit and get married here reported Q13FOX News.

Tourism group Visit Seattle announced its new 'Marry Me in Seattle' campaign would begin running in LGBTQ travel and lifestyle media beginning July 1st.

As part of the promotional effort, promoters are also announcing a sweepstakes for engaged couples to win hosted trips and weddings to Seattle.

LOOK:  PHOTOS OF SPACE NEEDLE WEDDING PERFORMED BY SPACE NEEDLE OFFICIATE

Seattle's first openly gay mayor Ed Murray will also marry the lucky folks.

"It's an honor to be part of this campaign and I look forward to officiating at the ceremonies for the lucky couples who win wedding trips to Seattle," said Seattle Mayor Ed Murray. "I appreciate the work Visit Seattle is doing to bring more out-of-town LGBTQ visitors to Seattle and the new 'Marry Me in Seattle' campaign is a great example of that work."

The ceremonies for the winning couples will take place on the first Wednesday of the month September through December and Murray will officiate the first one on September 3rd.

Local couples take note however, the sweepstakes is only for couples who live outside Washington.

Ceremonies will take place on the first Wednesday of the month this September through December. Seattle Mayor Ed Murray will officiate the first wedding on September 3.

Since same-sex marriage became legal in Washington State in late 2012 Seattle has become a popular destination for couples wanting to get married.

Last weekend Dustin Stersic married his partner Andrew Malone in a ceremony performed on the Observation Deck of the Space Needle by local drag queen 'Mama' dressed as the Space Needle.

Both Andrew and Dustin are active servicemen based in Tokyo, Japan.

The couple was on leave and decided Seattle was the best place for them to tie the knot — even though they've never been here before.

Any LGBTQ couple that resides outside of Washington State is eligible to win one of the four wedding trips. Winning sweepstakes entries will be randomly chosen.

More details are available on the Marry Me in Seattle website.