At least 24 believed dead in mudslide; scores still on missing list


[trib_ndn vid=25750137]

ARLINGTON, Wash. -- Searchers recovered two more bodies Tuesday, raising the official death toll to 16 from the devastating mudslide last Saturday, but officials said they found another eight bodies that have yet to be recovered.

Travis Hots, chief of Snohomish County Fire District 21., said the other eight fatalities would not be officially counted until the bodies can be recovered and taken to the medical examiner. He did not say when that would happen, but presumably on Wednesday.

The mudslide last Saturday crushed dozens of homes near the tiny, rural town of Oso and buried part of State Route 530.



Hots said they have found "no signs" of anyone alive in the debris field, but added that he is not giving up on the possibility someone may still be hanging on.  "We are going full steam ahead ... to get everybody that's out there that is missing," Hots said.

The "soft" number of people possibly missing remains the same at 176, officials said, but they expect that number to drop dramatically as they check off people.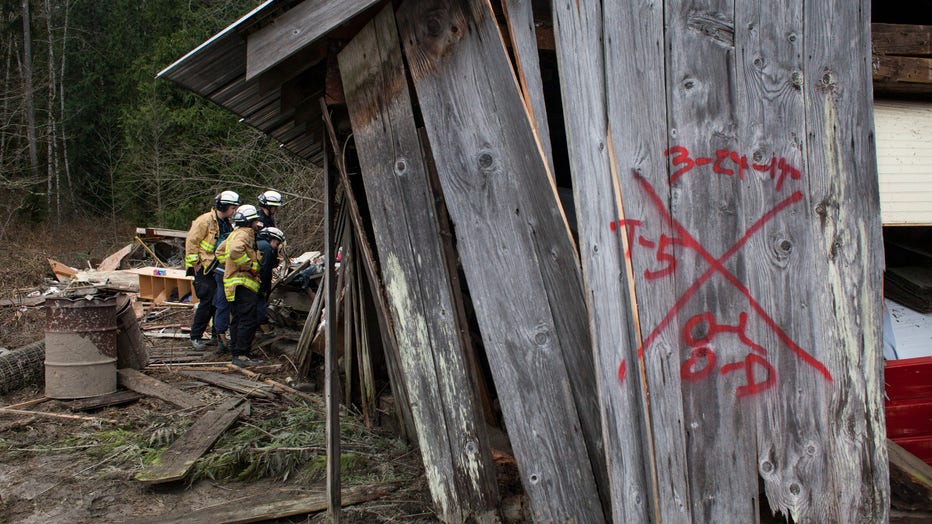 (Photo by David Ryder/Getty Images)


More than 200 people were searching for victims of the slide with shovels, buckets and thermal imaging cameras across a 1-square-mile debris field near Oso, about 55 miles northeast of Seattle.

Joining the effort Tuesday were a 50-member Washington National Guard Search and Extraction Team and the Guard's 11-member Fatality Search and Recovery Team trained in identification and recovery, and the Urban Search and Rescue team from Tacoma, comprised of fire and law enforcement personnel from Pierce County and fire personnel from King County.

Six dog teams from search-and-rescue organizations from across the state were involved in the search, and another six dog teams were expected Wednesday.

"The dogs have been the most effective tool" in finding fatalities from the mudslide, Hots said.

As a result of the federal emergency declaration that came Tuesday, federal help included an Incident Support Team, technical program specialists, and an Army Corps of Engineers mission assignment for debris planning.

The mudslide hit after 10 a.m. last Saturday, when most people were believed to be home.

Speaking at a news conference at The Hague in the Netherlands, President Obama praised the emergency efforts and acknowledged the widespread grief.
"We know that part of this tightly knit community has been lost," he said. "So I would just ask all Americans to send their thoughts and prayers to Washington state and the community of Oso and the families and friends of those who continue to be missing.

"We hope for the best," Obama said, "but we recognize this is a tough situation."

Record March rains are largely to blame for the slide, a mirror image of an earlier disaster that carved out the hillside in 2006.