As summer sizzles in Pacific Northwest, how do you beat the heat?


SEATTLE -- Summer's sizzle gripped Seattle and surrounding areas again as temps soared into the mid 80s -- for some in the 90s -- for the third day in a row. That kind of summer heat has folks heading to water of all sorts.

"Lots of sunscreen, lots of water," says June, who lives in the Greenwood neighborhood. For her son Maxime, it's his first time at the Green Lake Wading Pool -- and he's a bit shy as bigger kids splash and jump around.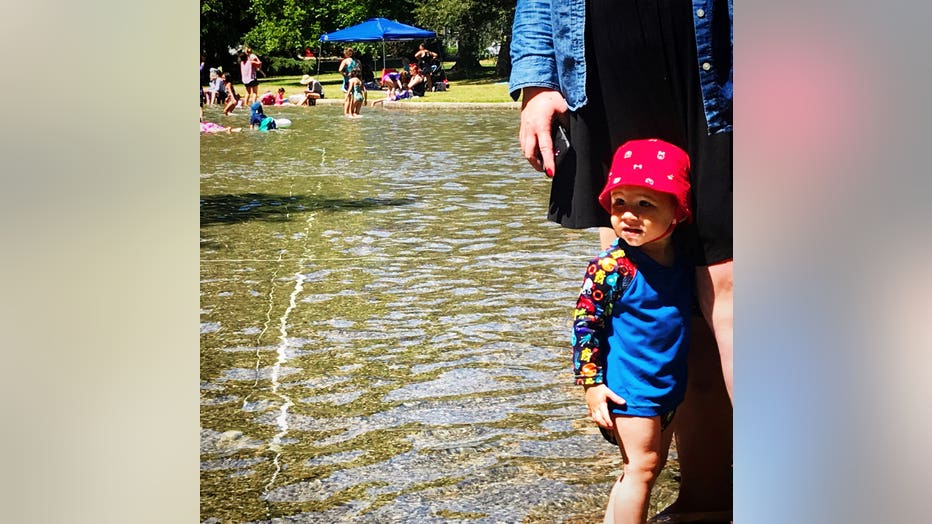 In full sun protection gear, little Maxime clings to his mom at his first ever visit to the Green Lake Wading Pool


For those exercising nearby on the path that encircles the Seattle lake, when the summer sizzles, it can be stressful on the body. Experts recommend saving that strenuous activity for the cooler mornings and evenings if you can.

It's hard to beat the heat if you have to work in it. When it's 86 in the afternoon shade, being outside all day can take its toll. Luckily, summer heat is somewhat rare in Seattle. On average, we see about four days of 90 degrees or warmer every year. This summer so far, today is day #4 of those hot days.

A wide sunhat on the lifeguard at the Green Lake beach keeps them in the shade while keeping at eye on others. Those who are young and old, statistically, have the most trouble with the heat. Lifeguards here watch for those who might be overexerting themselves and watch for signs of heat exhaustion and heat stroke like sluggishness or dizziness.

"Water, come get it while it's wet!" yells the attendant at the Union Gospel Mission's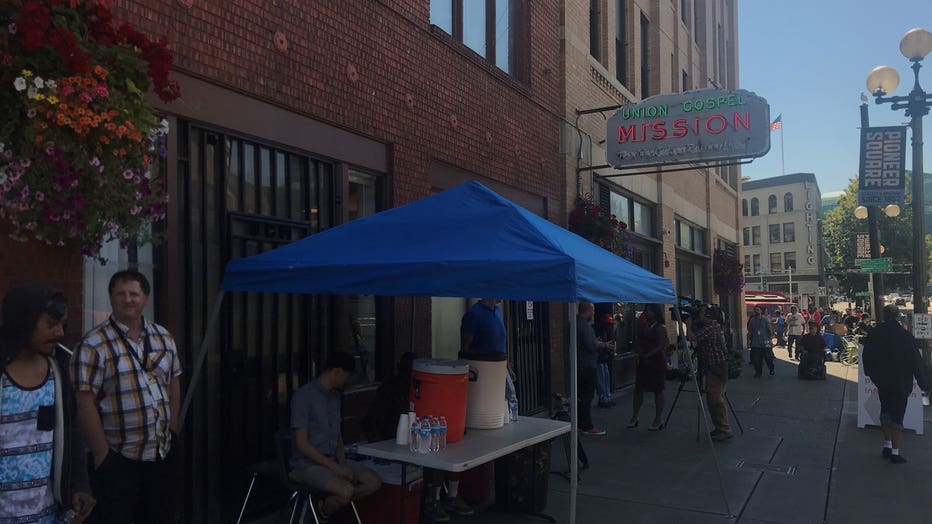 hydration station in the Pioneer Square neighborhood. It's getting a lot of traffic with folks grabbing bottles water. A spokesperson for the mission says for those living on the street, it can be hard to escape the elements. Many don't have lighter clothes to handle summer heatwaves. And for those living in tents and cars, afternoons and early evenings can be brutally hot, often feeling more like ovens than useful shelters.

"They're out in the sun walking around all day," says Richard McAdams, who graduated from the Union Gospel Mission and has worked for the nonprofit for the last three years. "Being able to find water is a real difficulty. Not to mention getting out of the weather."

For those beating the heat, in all of our watery surroundings -- while Green Lake's water temperature is in the 70s -- swimmers in Puget Sound or the ocean should be wary of the much colder temperatures, in the 50s, that can exhaust even the strongest of swimmers. That's why Ballard mom Angie loves taking her 10-month-old to different wading pools and splash parks all over the city.

"It's a great way to explore the city," says Angie. "We were at one at Volunteer Park this weekend. It's a great way to get to know different neighborhoods."

Because these water features recycle and filter water, it's much better at water-saving than a sprinkler in your own backyard. There's about 30 citywide, and they're open through early September on days when the temperature is warmer than 70 degrees.

And if you notice yourself sweating in the heat, that's a good thing. Sweat evaporating from your body is one way we humans cool ourselves off naturally. That's one reason why sunscreen is so important. When you have a sunburn, it can prevent the body from being able to cool itself naturally.