Arsenic found in Washington geoducks? State closes 135 acres to harvesting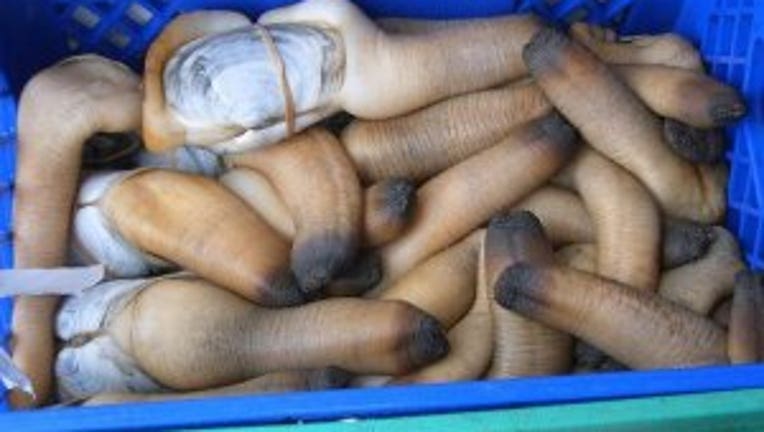 OLYMPIA – The state Department of Natural Resources announced Friday it was closing 135 acres of state-owned aquatic lands in Puget Sound to commercial harvest of geoducks, pending further testing, after China reported it had found high arsenic levels in imported geoducks from there.

On Dec. 5, the National Oceanic and Atmospheric Administration notified the state that China had banned imports of all "molluscan" shellfish (clams, oysters, mussels and scallops) from much of the U.S. West Coast. China stated it had detected paralytic shellfish poison (PSP) and arsenic in geoducks from "Area 67," which covers the West Coast from Alaska to northern California.

The DNR said that, effective immediately, it has closed the Redondo tract, a 135-acre area of state-owned aquatic lands in Puget Sound managed by DNR, to commercial harvest of geoducks, and that the Puyallup Tribe has concurred. The Redondo tract was identified as the source of China's concern about high arsenic levels in imported geoducks, the department said.

"Out of respect for China's recent action, DNR is working with sister agencies, including the State Department of Health and NOAA, as well as tribal and industry partners, to investigate China's concerns," said Commissioner of Public Lands Peter Goldmark. "We know this has been a hardship on our state's shellfish industry, and we will work diligently to find resolution as quickly as possible. While state and federal testing results to date have not raised any health concerns, we take these steps out of an abundance of caution."

Goldmark continued, "We also commend the swift action of the Puyallup Tribe to suspend indefinitely their usual and accustomed harvesting on the Redondo tract. Together with DNR's action today, this means that no geoducks from the area at issue can enter the stream of commerce, domestically or internationally."

More information about geoduck safety is available on the Department of Health website: http://1.usa.gov/JQw9GQ.