Armed pot shop perps: WMW viewer tips lead to identity and arrest of one suspect; two still unidentified -- one linked to second robbery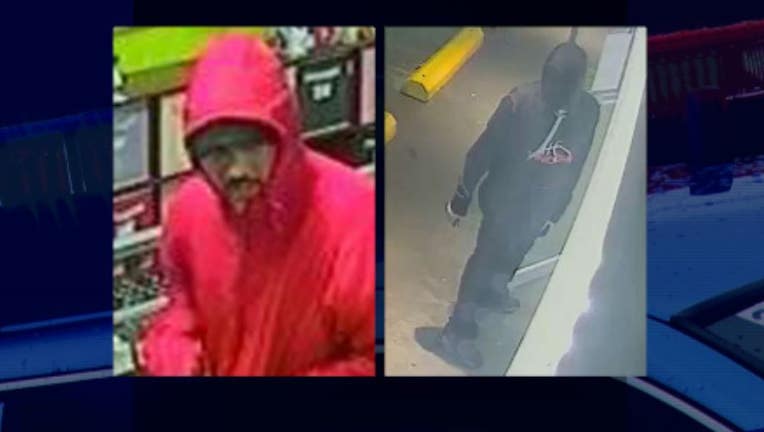 FUGITIVES  UPDATE November 20, 2015 --
King County detectives do not think this case is connected to another in Seattle.

"We still have two outstanding, specifically the one that has the gun and that's pointing it at the employees in the store. Interesting also is we found that Seattle Police also had a robbery similar and if you look at the video in that robbery it appears as though our gunman, our suspect is the same in both cases, so we're really hoping someone will recognize this guy and give us a call before he does another robbery or worse, starts to hurt people."

In the Seattle robbery that was also featured on Washington's Most Wanted, the suspect wore a white hoodie and his pants seemed like they were going to fall down.
The third suspect in the pot shop hit, the guy who guarded the door, was wearing all dark clothing.
If you know their names, call an anonymous tip into:
CRIME STOPPERS: 1-800-222-TIPS

You must call the Crime Stoppers hotline with your tip to be eligible to receive a cash reward for information leading to a fugitive's arrest.

CLICK HERE for information on how to TEXT A TIP to Crime Stoppers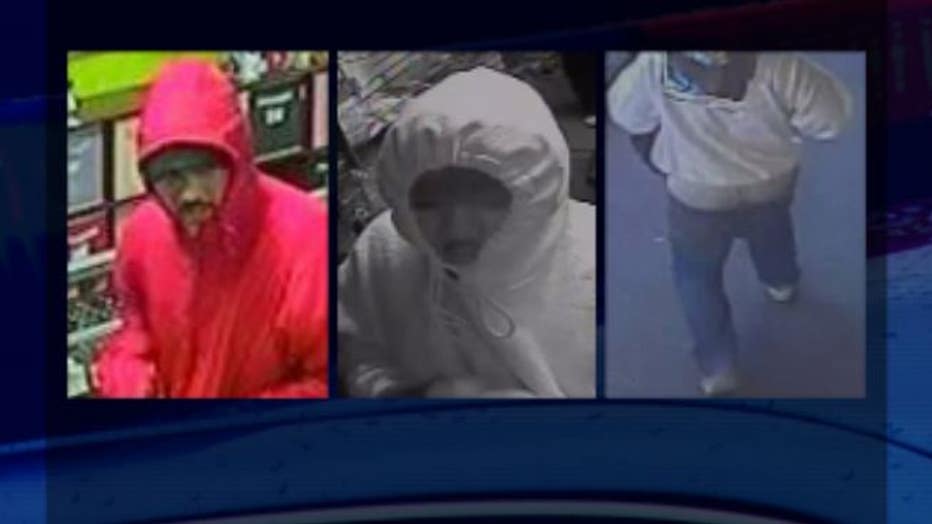 Detectives: Possibly same suspect in both robberies


CAPTURE UPDATE November 11, 2015 --
King County Sheriff's Detectives just arrested one of three suspects who robbed the 'NiMBiN Pot Shop' at gunpoint in the 10800 block of 1 Ave S.

He is the one in the middle photo wearing a dark colored jacket with red patches on both shoulders and the numbers "1972" on the front.

He was identified by a Washington's Most Wanted viewer.

The suspect is a 17 year old with a history of armed robbery.

Detectives are still asking for the public's help in identifying the other two suspects. The one with the gun was wearing a red sweatshirt and dark colored pants The third, who guarded the door, was wearing all dark clothing. I

f you know their names, Crime Stoppers will pay you a cash reward of up to $1,000. Call the hot line anonymously at 1-800-222-TIPS (8477)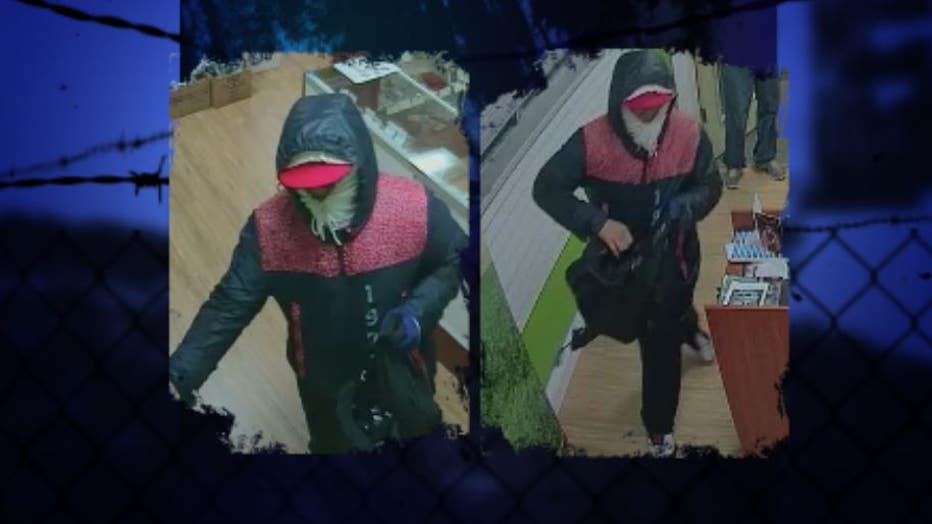 Suspect above identified and arrested


FUGITIVES WANTED IN KING COUNTY November 6, 2015 --

Take a good look at the face of the armed marijuana store robber in the red jacket.

He and his crew hit the 'NiMBiN Pot Shop' in south King County and detectives are hoping you can tell them the names of all three suspects.

"You can see that they're kind of hidden off in the distance, waiting for vehicles to leave," says King County Sgt. Cindi West. "Once the last car leaves the three of them come up to the store. One of them goes inside with a gun and starts pointing the gun at the employees, he's actually pretty rough with them, you can see him kind of pushing one of the employees around and then demanding money. The second suspect comes in, goes to the other side of the store and starts stealing some marijuana packets off of the shelf. The third suspect stands by the door outside and guards it during the entire time. Once they've got what they want they all flee on foot. We want to get them off the street. This is dangerous. You can clearly see that they're brazen, going in there in the middle of the evening, pushing employees around, getting what they want and then leaving."




You can only see the face of the suspect with the gun who's wearing the red jacket.

The second suspect wore a distinct, dark jacket with red patches on the shoulders and the numbers '1972' down the front.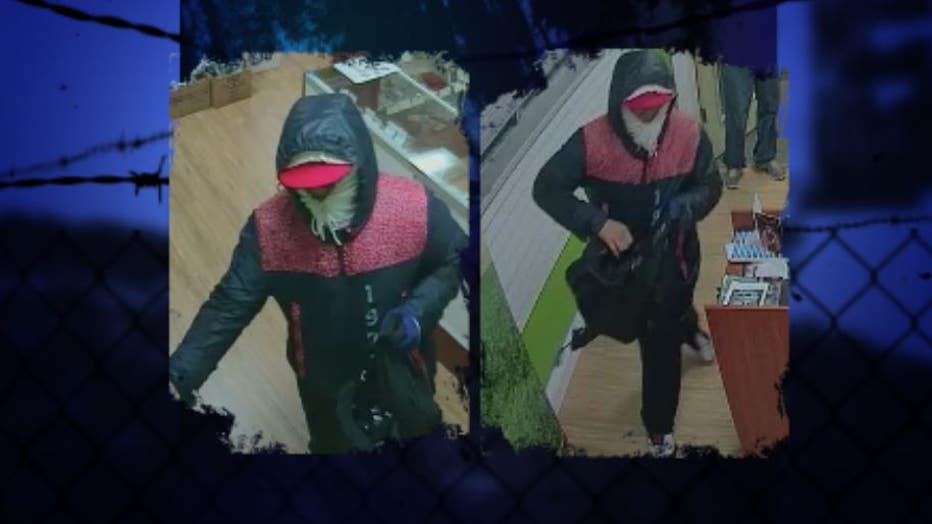 Suspect above identified and arrested
If you can tell King County detectives the name of any of these three armed pot shop perps, call an anonymous tip into:
CRIME STOPPERS: 1-800-222-TIPS

You must call the Crime Stoppers hotline with your tip to be eligible to receive a cash reward for information leading to a fugitive's arrest.

CLICK HERE for information on how to TEXT A TIP to Crime Stoppers