Are the bad guys winning? Crime on the rise in Seattle, numbers show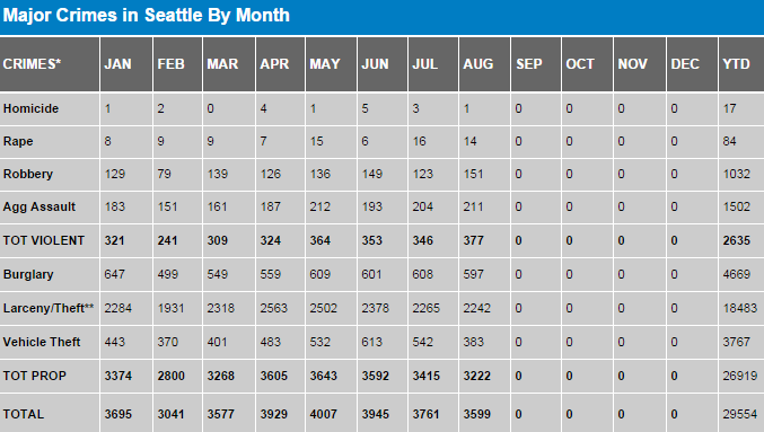 SEATTLE -- Seattle Police released new findings on the number of reported crimes in Seattle. And they're not good.

While some crimes have fallen, statistics show many crimes are on the rise in the Emerald City, contributing to why some people say they don't feel safe.

Police say crime is up about 13 percent overall compared to 2013. So far in 2014, 29.554 crimes have been reported in Seattle. Police say homicides are up 21 percent, and aggravated assaults are up 14 percent.

There have been 84 rapes, compared to 81 in 2013, up 4 percent. The report shows 1,502 aggravated assaults, up 183 from last year, a 14 percent increase.

Motor vehicle thefts are up a whopping 44 percent and car prowls and other car related thefts are up 15 percent.

According to the SPD, larceny and thefts other than motor vehicle account for more than two-thirds of the overall increase, up more than 2,300 over last year.


The latest graph suggests when crime increased over last year.


Officers admit crime is defintely on the rise in Capitol Hill. The department has increased patrols in cars, bikes and on foot.

It is too early to tell if the increase in officers is making a dent, though some local officials say they like what they've been seeing.

"We're pleased there has been a response," said Michael Wells, executive director of the Capitol Hill Chamber of Commerce.

The Seattle Police Department is using the latest crime numbers in a new program called SeaStat. Reported crimes are analyzed and police address the issue and target trouble areas.