App alerts homeowners to burglary; two suspects in custody
BURIEN, Wash. – Police say new technology like home surveillance cameras that stream to your cellphone are one of your best lines of defense against crime.  It's especially important as the Puget Sound experiences an increase in property crimes, with Burien seeing a 9 percent increase in burglaries last year.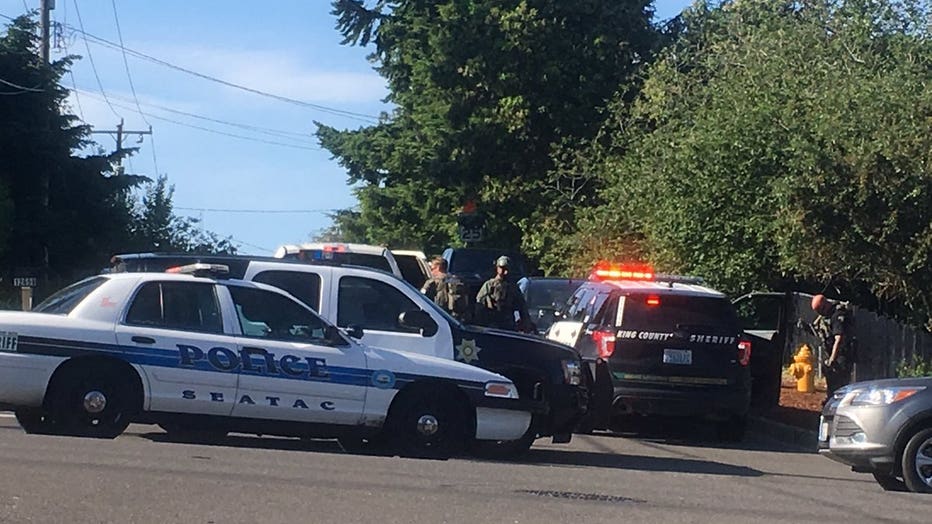 "It happened right at about noon.  It's typical. Most people work the dayshift Monday through Friday eight or nine to five.  So this is usually the time that we have burglaries committed," said King County sheriff's Sgt. Cindi West.

It was a typical Tuesday afternoon in Burien off 128th Street and 14th Avenue South, where Chris and his wife just moved in.

"We recently moved to the community.  We like it. It's a lovely community," said Chris.

Burien homeowner Chris armed his home with another line of defense.

"It's the Arlo Security System and we're very happy with it," said Chris.

The cameras connect to an app right on your phone.

"I got a notification on my phone that there was movement in my house. I turned on the live feed and I saw two strangers walking around my house putting stuff into sacks," said Chris.

So Chris called 911 and multiple units showed up to track down the suspects.

"One of them was holding one of my pillow cases putting my stuff in it.  They were just looking around, moving things around, getting their grubby little hands on everything," said Chris.

In this surveillance video from inside his home, you can see two suspects running out after hearing police sirens.

"They seem to be caught and that's all you can hope for really," said Chris.

Three police officers are seen running inside the home just after the burglars run out.

"We have two people detained. One we're sure was one of them in the house.  The other one we don't know if he was in the house or if he was a lookout," said West.

West say they're not surprised there's multiple suspects. They say burglars usually work in groups of four.

"Sometimes one or two will go in the house, there might be one or more outside as a lookout sometimes even one as a getaway driver," said West.

In 33 years on the force, West says new technology is another crime fighting tool that's taken off in recent years.  Security systems videotaping the suspects and sending out instant alerts can be used as evidence.

"I think it's a good idea to put in that investment to make sure that you have a second set of eyes a third set of eyes on things especially if you can record that and can be used as evidence later," said Chris.