Water service restored in West Seattle after water main break
SEATTLE - Seattle Public Utilities has restored service to those who were without water for a period of time as a result of a water main break in Seattle on Monday afternoon. 
Six units of an apartment complex on SW Holden St. were evacuated due to damage from the water main break. 
Firefighters responded to a 24-inch water main break in the 2200 block of SW Holden St. Those near 24th Ave. SW and SW Kenyon St. experienced water outages.
A number of renters were forced out of their homes due to the flooding. The water main shot water above the building and directly at a pair of windows knocking them out.
According to Billie Littleton, who live right next to the water main, a firefighter had to open a woman's sliding glass door to allow the water to drain out of the home. The water flowed into other apartments too. 
"It just sent water like a fire hose," said Littleton. "I can't think of what this lady is going through after she lost her apartment."
 After water service was restored late Monday night neighbors say they had discolored water, but SPU said water tests haven't raised any alarms. Anyone who does have discolored water is advised to run water for 1- to 2-minutes until the water turns clear. Full details are available, here.
It's unclear what caused the water main to break. A construction crew recently began work to repair a walking trail that is slated for upgrades – Seattle planning documents explain that the water main will be moved during construction.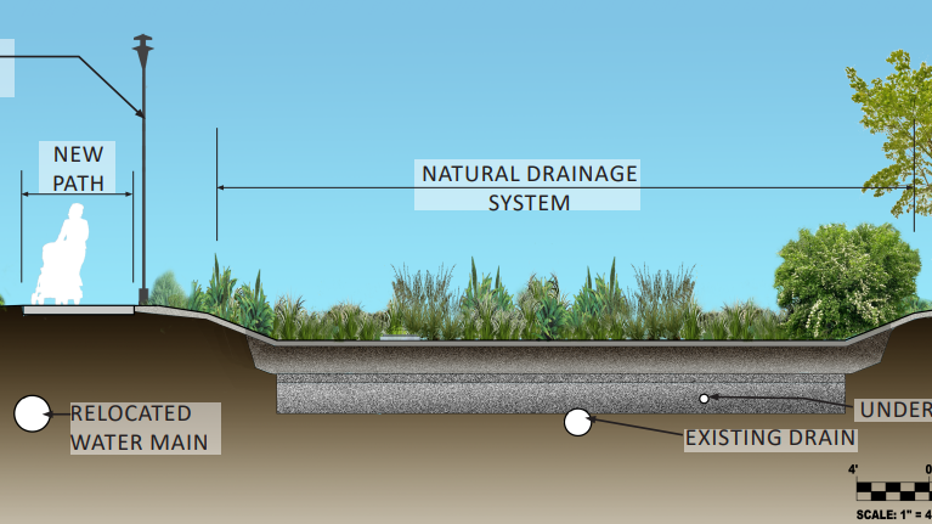 Longfellow Creek Path upgrade plans from the Seattle Public Utilities.
"You know they've been doing a lot of stuff over here," said Littleton. "So, I don't know if what they're doing caused it?"
A timeline to fix the water main is hard to pin down. A SPU representative said it "could" take several weeks, due to how the water main broke with a horizontal gash. That portion of the pipe may need to be cut out.