Another town evacuated, hundreds more flee as huge wildfire devastates central Washington


BREWSTER, Wash. -- The town of Malott and areas around Brewster were evacuated Friday night as hundreds of more people fled a devastating wildfire that had already scorched nearly 170,000 acres and destroyed up to 100 homes in north-central Washington.

"Simply put, there's a firestorm in Washington right now," Gov. Jay Inslee said earlier Friday. "The growth of this fire is almost unprecedented."

On Friday night, authorities ordered the evacuation of the small town of Malott, Wash., population of about 500, and people from the outskirts of the larger town of Brewster, which is home to about 2,400 people.



[trib_ndn vid=26426101]



Janet Pearce of the Washington state Department of Natural Resources said the four fires that are part of the devastating Carlton Complex Fire had not been contained as of Friday morning. An estimated 80 to 100 homes were destroyed and cell phone service was knocked out. There were no reports of injuries or missing persons.

Flames came over a hill in Pateros and spilled into the town's valley Thursday, Okanogan County Sheriff Frank Rogers said. The entire town of Pateros, roughly 650 people, was evacuated Thursday night, he said, and most of the homes caught fire.

The Carlton Complex Fire exploded from about 47,000 acres Thursday to 168,713 acres on Friday. Inslee said there is extreme danger with this fire that moved 20 miles overnight. To see a map (or to enlarge) click here.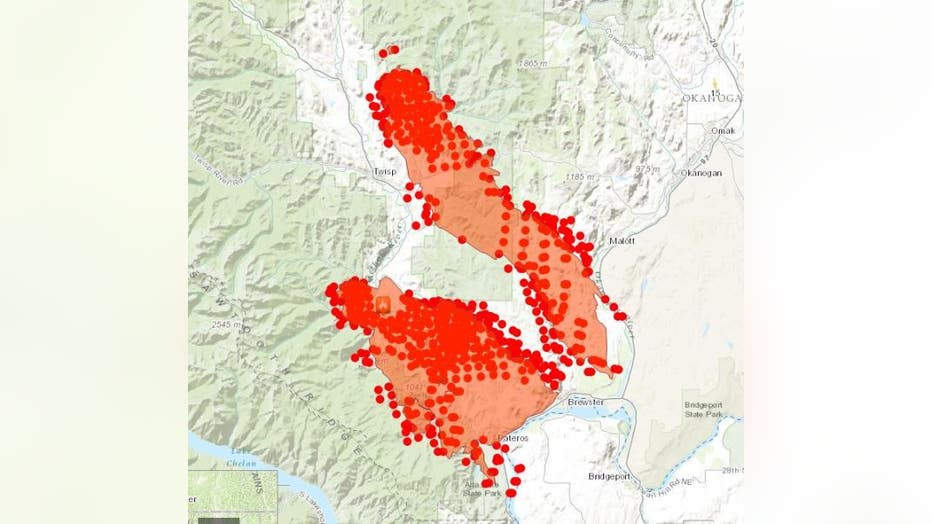 An aerial view of a Pateros neighborhood:




"We were sitting down below the hill and the wind shifted, and within half of an hour the backside of the town was burning," Rogers said.

Winds are fanning flames in many parts of the county, which borders British Columbia, Canada, he said. In the nearby town of Brewster, the hospital was evacuated, he said.

About 2,000 firefighters are on the ground as 12 helicopters from DNR and the National Guard fight the flames from above.

Inslee said for the first time since 1994, officials have called up 100 National Guard troops for assistance. They are being trained quickly at the nearby Yakima Firing Center.



Inslee stressed that saving lives is government's number one priority.

"I know there is a desire to protect one's home and one's buildings, but this is not a moment to be pushing the envelope with garden hoses and the like," he said.

MORE:  Community comes together on Facebook page offering fire victims free shelter, repair, toys >>




Fire near Leavenworth rages on

The town of Leavenworth is facing a threat of its own. There, Gustav's Grill and Beer Garden sent workers home Wednesday so they'd evacuate.

"It's black outside," manager Naomi Roberts said. "The sun is shining through the holes in the smoke."

But she has not closed the restaurant. "Campers are getting evacuated. The highway to Seattle is shut down. So they are coming to us," she said.

Evacuations in Canada

Across the Canadian border, authorities evacuated 2,500 residents from 1,100 homes in West Kelowna, according to a local emergency management agency.

But no homes had been lost there.

RELATED:

Before and after photos of luxury lodge torched by wildfire >>

Photos: Flames spreading fast in Okanogan County >>

Eastbound I-90 remains closed east of Ellensburg due to dangerous conditions >>

CNN contributed to this report