Another record smashed -- we've now had 153 days of rain since Oct. 1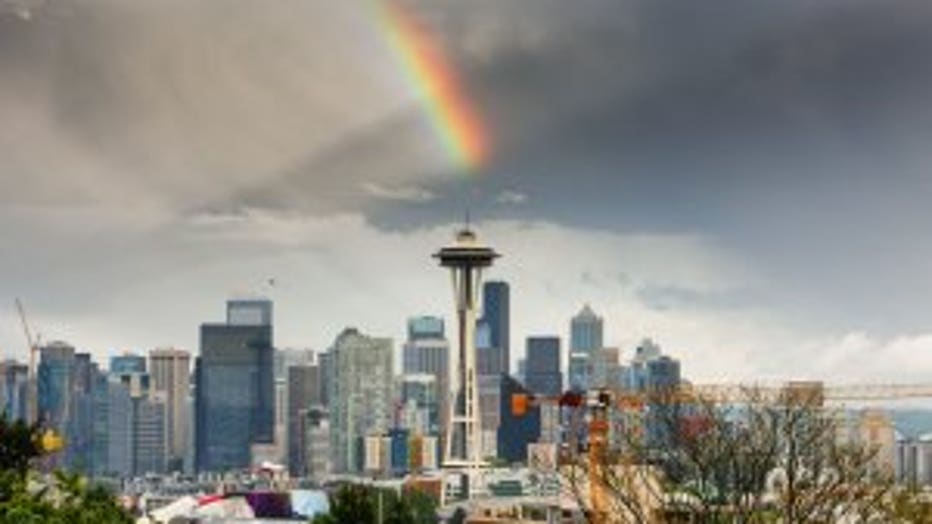 After the storms moved through Seattle, this came along. (Photo: Tim Durkan Photography)


SEATTLE -- It seems like mother nature is setting record after record.

Q13 News Chief Meteorologist Walter Kelley says we've had 153 days of rain since Oct. 1.

Thursday's rain totals for SeaTac reached nearly 1/2 an inch of rain (0.44″). And because of all the heavy rain we saw a Flood Advisory for streams and creeks running high.




Q13 News Meteorologist M.J. McDermott went back to check the satellite at the peak of Thursday's thunderstorms -- which have slowly come to an end -- and found this.

"Crazy thunderstorms yesterday. This is the radar from about 4:40 p.m. We hardly ever see purple on the radar! That indicates very heavy rain! Thurston County was a bull's eye with the storm. 2,500 lightning strikes with the storm."


Forecast Erin Mayovsky has a look at the weekend and beyond:

Today: Mostly cloudy, wet and breezy at times. Showers decrease throughout the evening and night. High much cooler, near 56 with lows dropping to near 45.

Saturday:  A few lingering showers, otherwise partly sunny, with a high near 60. Lows fall back into the mid 40s. Bring a light rain jacket if you're heading to CenturyLink Field for the rematch of the 2016 MLS Cup between your Seattle Sounders and Toronto FC. Temps for kick off should be in the mid to upper 50s.

Sunday:  Mostly sunny, with a high near 61. Low temps drop to the mid 40s.

Monday & Tuesday: Mostly sunny with highs climbing above normal and warmer each day. Highs in the mid to upper 60s. Lows warmer too in the upper 40s. Slight chance of a shower moving in Tuesday night.

Wednesday: Showers return! Mostly cloudy and wet at times with a high near 64. Lows fall back to about 51.

Thursday: Mostly cloudy with chance of showers. with a high near 62. Overnights in the low 50s. Have a great weekend!