Animal shelter investigating poison meat possibly left for dogs in local park
SEATTLE -- The Seattle Animal Shelter is investigating reports of raw meat loaded with rat poison being tossed into a local park in an apparent attempt to kill pet dogs roaming the trails, Seattle Parks and Recreation officials said.

According to Seattle Parks, officials have not yet been able to confirm reports and pictures posted online of poison meat being left for dogs in Carkeek Park in the Broadview Neighborhood of North Seattle. However, officials did say the animal shelter was opening a cruelty investigation, and officials were out at the park Monday looking for any poisoned meat.

A local dog owner posted a picture on Facebook and Reddit of meat allegedly pulled from their dog's mouth while walking through Carkeek park Saturday morning.  The owner's dog was taken to the hospital and is expected to be OK.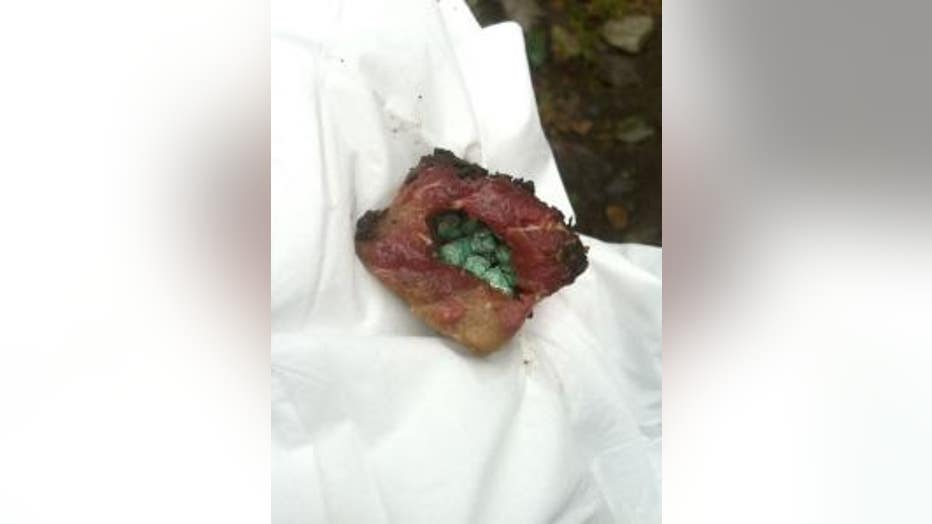 Animal shelter officials are contacting witnesses and the veterinarian who treated the dog to confirm if the dog was indeed poisoned. Park maintenance staff are combing the park for more pieces of tainted meat, officials said.

"Park maintenance staff are also on the lookout for any meat strewn around the pathways of elsewhere in the park," Seattle Parks and Recreation Spokesperson Joelle Hammerstad said. "Parks will also post signs to warn dog owners about the incident and provide the number to call to report tips."

This is not the first unconfirmed report of poison found in the 220-acre park that includes more than six miles of trails.

Any person responsible for leaving poisoned meat could be charged with first-degree animal cruelty; a felony. Officials are even concerned the poison could leak into a nearby creek, hurting the salmon fry that are released in the creek each year.

Officials said it's important to keep all dogs on a leash at all times, even in leash-free areas.