Anarchists or just plain criminals? SPD searching for more


SEATTLE -- Call them troublemakers or bad actors, criminals or even anarchists.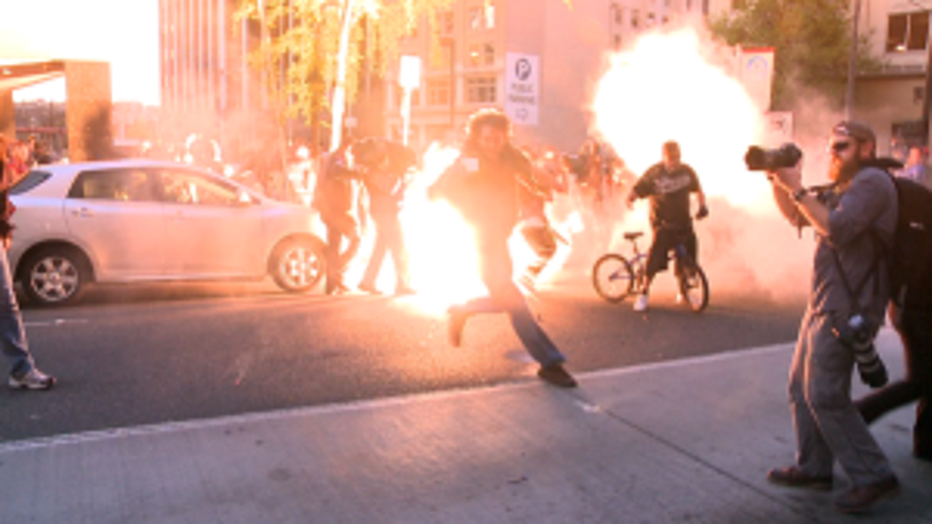 There were only a handful of them in a larger crowd.

They wore masks to hide their identity and, according to police, used crude weapons to hurt people and damage property.

"A number of them were just criminals taking advantage of a large-scale crowd to do property damage and/or violence," SPD Assistant Chief Paul McDonagh said.

"We arrested 17 people; that means we put our hands on them, handcuffed them and had to move them out of the crowd," SPD Capt. Chris Fowler said.

Some of those were in court Thursday and are now charged with, among, other things, obstructing an officer, resisting arrest, property damage and failure to disperse.

Most call themselves anarchists, but who are they?

Brian McCracken is a self-described anarchist.

He was part of the peaceful demonstrations in Olympia Wednesday.

He describes anarchists this way.

"It means that I object to authority in all of its forms. It means that I think workers deserve to run their workplaces.  I think that the people have the right to control our lives and the right to organize ourselves without the one percent," McCracken said.

Investigators say some of them are locals, some are not.

"There are those who are coming from outside the city to incite some of this violence," Captain Fowler said.

Some information can be gleaned from anarchists' blogs and websites.

One urges readers to "bring ruckus to your town" and the group who organized the May Day violent protest calls itself Puget Sound Anarchists or PSA.

On its website the day after, it encourages those who committed crimes on May Day to get rid their clothes in hopes of avoiding identification by police who are already looking over video and photographs of the incident.

SPD says they can run but they can't hide, more arrests are possible and getting rid of clothing is not a good idea.

"If those individuals committed crimes and they're destroying evidence then that in and of itself is a crime. The detectives are feverishly working to use any and all means to attempt to locate, identify any individuals again who were involved in criminal activity last night," Fowler said.

So now, two things are happening relative to May Day 2013.

First, as it did last year, SPD is putting together a task force to find anyone who committed crimes and have not yet been arrested. Again, they will use photos and video from all sources, including surveillance and cell phones.

Secondly, not one but two after-action reports will be produced so police can evaluate how well they planned for and responded to May Day violence.

Anyone with information or pictures or video should call SPD or 911.