Amtrak train hit by mudslide in Everett; services disrupted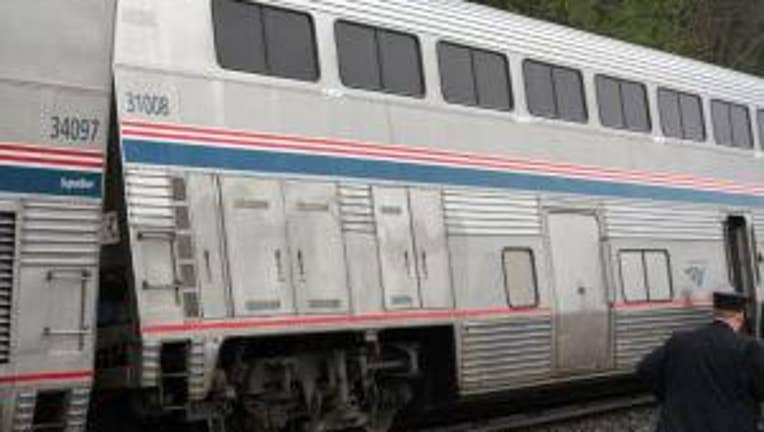 EVERETT -- An Amtrak train heading to Seattle from Chicago was hit by a mudslide Sunday morning  in Everett.

There were no injuries to the 86 passengers and 11 crew members on board. However, three of the train cars derailed even though the train remained upright.

Crews uncoupled the the derailed cars from the rest of the train and passengers continued on to to Seattle. Many passengers in the derailed train cars had to get into a bus at the King Street Station in Seattle, delaying their trip.

The train was the Empire Builder that was travelling from Chicago. The derailment will affect train service in the area and it may affect Sounder service for Monday's commute. Burlington Northers Santa-Fe Railway Co. has imposed a moratorium on passenger trains between Seattle and Everett due to the mudslide. Alternate transportation with chartered buses will be provided between Seattle and Everett for Amtrak Cascades passengers.

Passengers who paid but choose not to travel to to this service disruption can receive a full refund, Amtrak announced.

Many of those riding in the train recounted the mud coming down the hill.

"The Mudslide hit the car in front of us and that went that way and the other car went the other way," said passenger Patrick Wood. "It was kind of skidding along and it stopped."

BNSF said slides are hard to stop.

"Day after day, after day, after day of excessive rainfall," BNSF staffer Gus Melonas said. "When you operate through an area with waterway on one side, cliffs on the other and your railroad in the middle debris is going to come off these high cliffs and unfortunately we're at the bottom and sometimes you have to pay the price."