Amid protests, Seattle City Council votes to move ahead on new, $149M police precinct building


SEATTLE – The Seattle City Council passed a resolution Monday night to build a new, $149 million north precinct building for police.

The resolution places additional checks and balances on the project, including the ability to lower its price tag, but protesters turned out to call for the council to scrap the proposed building altogether.

"Whose lives matter?" asked a woman of the crowd while standing at the council's podium. It was answered with an overwhelming "Black lives matter!" She then turned to the council and said, "That alone should make clear that we do not want this bunker."

Hundreds opposed to the new police precinct in north Seattle charged through the chambers doors on Monday evening.  The room, at capacity, required many to wait and watch the proceedings outside. Instead, they stormed the doors demanding access.

"We know the truth, the police do not protect us," said one man, appealing to the council to vote no on the resolution. "They never have and never will."

The resolution places demands on the 2015 plan to build what was once estimated to be a $160 million precinct building at Aurora Avenue North and North 130th Street. It requires the city to conduct a racial equity analysis of the precinct's design and allows more scrutiny on the price tag, which was recently reduced by $11 million.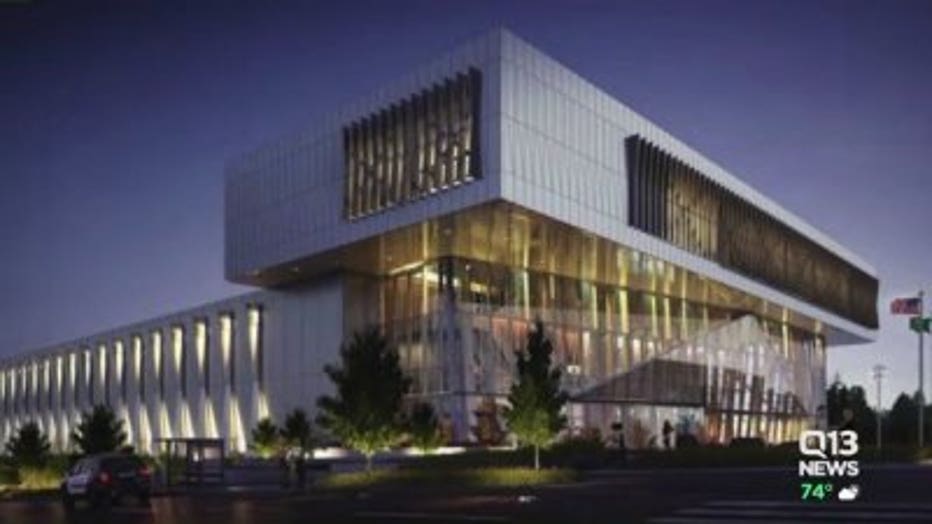 This is the design for the new police precinct building in north Seattle.


Five blocks away from the site, on 125th Street, Joe King said he likes the idea of the new building set to be built in his backyard. "I like the new precinct. We live around here, we see a lot of crime."

He said he's seen the old precinct building that was erected in 1984; "it's very rundown and the new one needs to be built."

The price is high, he said, but he doesn't think it's enough to stop the project.

"Sometimes you have to put faith in your community and if that is what they need, that is enough for me," said King.

That faith, he said, extends to the council to make the right choice.

Others at the meeting said,they didn't have faith in the system or Seattle.

"This is the most expensive precinct in the county and it sets a precedent that allows for militarization of police departments and it's unacceptable," said one woman after the council meeting.

She said she doesn't like the idea of the training facilities that would be built in the basement of the new precinct, part of which include a 24-hour firing range.

"Other places in the country do not need this, so why does Seattle?" she asked.