Almost one-year after Aurora Bridge crash, firefighters relive the devastation
SEATTLE -  Saturday marks the one-year anniversary of the Aurora Bridge crash and on Wednesday firefighters relived that tragic day opening up to reporters.

They had never seen so many injuries in one scene after a Ride the Ducks boat crashed into a charter bus carrying North Seattle College students. More than 90 firefighters responded that was half of all the Seattle firefighters working that day.




Seattle fire says they could have done a better job when it comes to communicating on that day, but that's a minor tweak because overall they are proud of how quickly they helped dozens of victims.

Amid the chaos of the tragic day, a photographer at the Seattlepi.com also captured the best of humanity. A picture of a firefighter comforting a young woman who had just been pulled out of a mangled bus.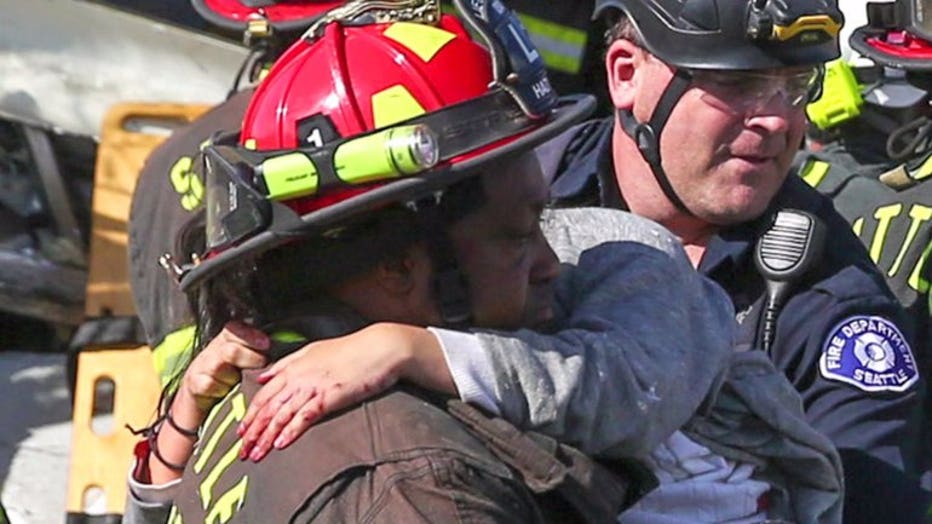 Lieutenant Harold Webb comforting young victim. (Photo credit: JOSHUA TRUJILLO/ Seattle PI)


On Wednesday, the firefighter in the picture Lieutenant Harold Webb talked about the moment.

"It caught up with her what was going on and she kind of panicked and literally jumped into my arms, I understand she draped her arms around my neck," Webb said.

And in that moment Webb felt like a father, not just a firefighter.

"I was trying to be really gentle with her I set her down and let her know I wasn't going to leave her," Webb said.

Firefighters had more than 80 people to tend to with 51 injured.

The impact of the crash was so powerful; firefighters say the duck boat opened up the charter bus like a can opener.

"There is not a day that goes by that I am in Seattle and don't see the Aurora bridge, and I think about the incident," Incident Command Chief Tamalyn Nigretto said.

Three minutes after the first call, firefighters were untangling the injured trapped inside the bus.

Nigretto says her team managed to get the 51 patients on their way to the hospital in just 30 minutes.

"That is an amazing success story for us," Nigretto said

A quick response survivor Phuong Dinh is grateful for.

"I still remember their soft voice in my head," Dinh said.

Firefighters reassuring her that she would live.

"You are going to be ok stay calm stay calm they really calmed me down," Dinh said.

As the one year anniversary approaches 19-year-old student from Vietnam thinks about the five international students killed.

"They wanted to study in America they wanted to study like me," Dinh said.

Dinh is getting that second chance to live out her dream. She begins classes at North Seattle College on Monday

"I want to experience Seattle, I just love this city," Dinh said.

Dinh has so much to explore, but she fears the Aurora Bridge, a narrow bridge with no median. SDOT on Wednesday says they cannot comment about any plans to improve the bridge because the accident is under litigation.