Airline passenger takes 'selfie' video as she runs from crash-landing
PHILADELPHIA (FOX29) -- A passenger on a US Airways Flight 1702 at Philadelphia International Airport took a 'selfie' video of herself running from the plane after it crash-landed and while everyone was being evacuated Thursday.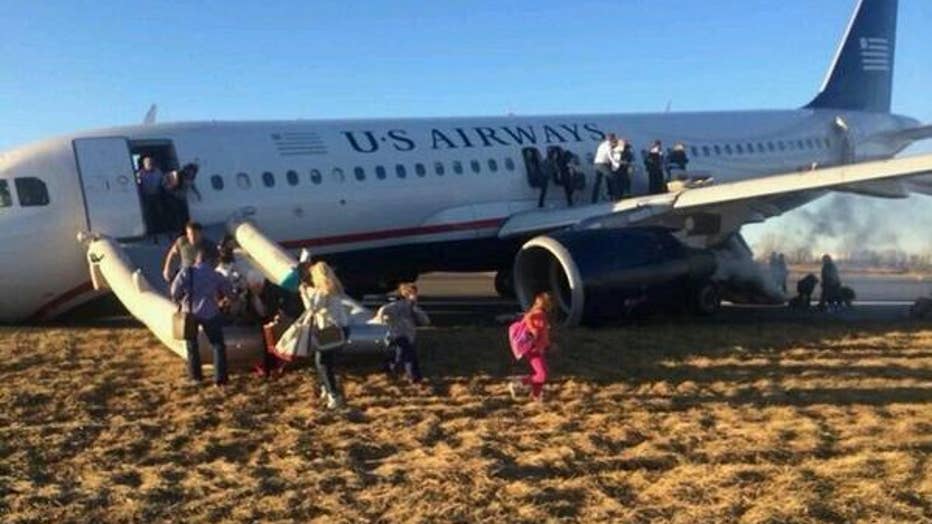 Passengers being evacuated from a US Airways plane after its nose slammed onto the ground Thursday. (FOX29/Philadelphia)


The plane was taking off for Fort Lauderdale, Fla., when the pilot was forced to abort takeoff shortly after 6 p.m. Thursday when a tire on the plane's front landing gear blew out and the nose went down, airline officials said.  The occupants were evacuated and no one was injured.

The incident is now under investigation.


The Airbus A320 jet was carrying 149 passengers and five crew members, airport spokeswoman Victoria Lupica said.

Hannah Urden, a passenger, posted a video saying, "Oh my god, my plane just crashed, my plane is on fire."

Passenger Dennis Fee told reporters that it was "very windy and when the plane took off, the nose of the plane went back down, hitting the runway."

"We were airborne, then struck back down by the nose," he said.

Another passenger, Christopher Teaney, told the Philadelphia Inquirer the plane "kind of shot up and then bounced down."

"Bounced real hard," he said. "Shot up again, and then nose-dived."

Emergency responders sprayed protective foam around parts of the plane because hydraulic fluid was leaking from it, but no jet fuel leaked, said police, who praised the actions of the airline crew for getting the passengers off the plane safely.

Teaney said that passengers had to wait more than half an hour in the cold for buses to pick them up and take them back to the terminal. Police said they erected barriers to try to shield the passengers from the wind and put some women and children in their vehicles to keep them warm.

US Airways parent US Airways Group merged last year with American Airlines to form American Airlines Group Inc., based in Fort Worth, Texas. The company plans to phase out the US Airways name.