After Las Vegas tragedy many Washington officials take to social media
As the world tries to understand the tragedy that hit Las Vegas Sunday, many are taking to social media to share their thoughts and reaction to the shooting.
All are trying to find hope in this tragedy.




WA Attorney General
@AGOWA



 AG Ferguson on the tragedy in Las Vegas: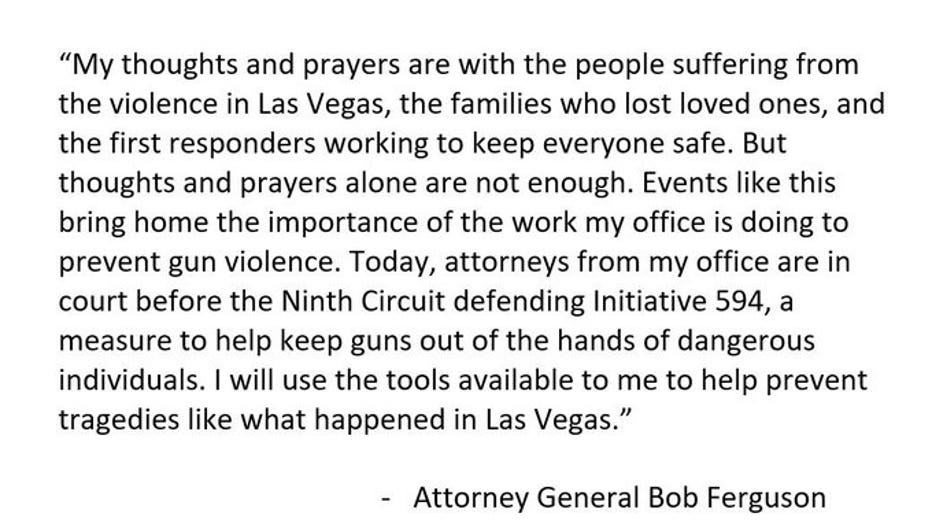 Central Pierce PIO @CPFR_PIO
Our condolences for the victims & their families. #LasVegas. We are with you @LasVegasFD & @LVMPD. Our at half-staff.


City of Sammamish @CityofSammamish


Our flag is at half-staff and our hearts are with Las Vegas. #lasvegas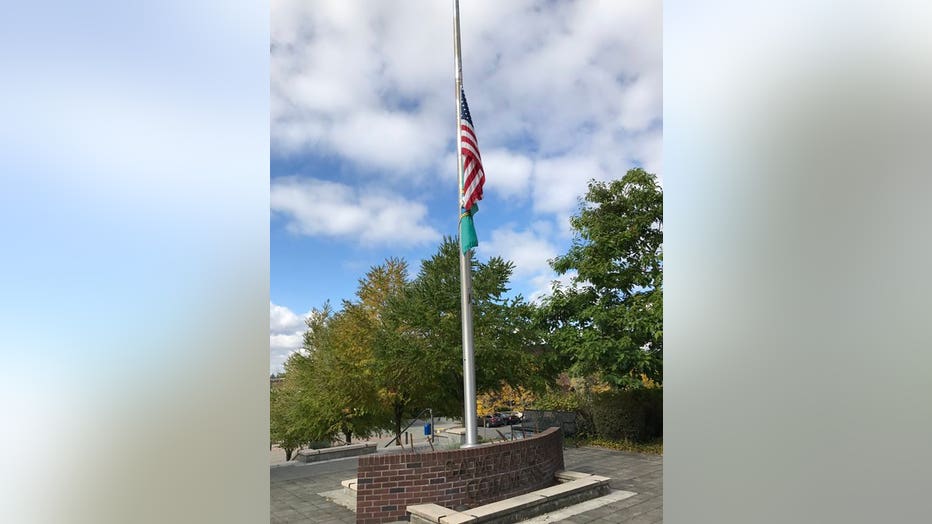 WA State Ferries @wsferries


 Our flags are flying at half mast today in honor of those impacted in Las Vegas. Our thoughts are with you during this difficult time.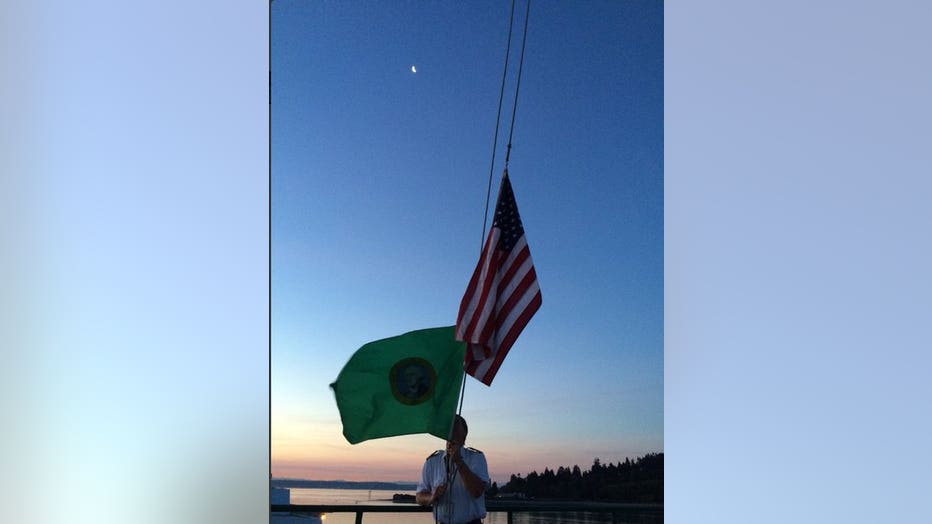 Bellevue Fire OEM @BellevueFireOEM
Our hearts go out to everyone affected by the shooting in Las Vegas last night.

West Pierce Fire @WestPierce
Our thoughts go out to all affected by the tragedy in #LasVegas.

Seattle PD Chief O'Toole's Statement on Las Vegas Shooting
We join with police departments  around the country in expressing our sorrow over the horrific acts last night in Las Vegas. This shooting is yet another reminder of how suddenly and unexpectedly terror and tragedy can strike.  Early this morning, I sent a message to Sheriff Lombardo indicating that SPD stands ready to assist the LVMPD. As we keep the victims, their families, the people of Las Vegas and their first responders in our thoughts and prayers, please stay vigilant, stay safe, and look out for one another.

Tukwila Police @TukwilaPD
Our thoughts are with everyone affected by the tragedy in Las Vegas last night.

Snohomish County  @snocounty
Our thoughts and prayers are with the people of Las Vegas and Clark County. #PrayforLasVegas

City of Bothell @CityofBothell
Flags at City Hall & the Police Department are at half-staff this week, as proclaimed by President Trump, in honor of the victims. Heartsick

Bothell Police @BothellPolice
Our hearts break this morning for Las Vegas and all affected by this tragic incident. Please keep them all in your thoughts and prayers.

RedmondWaPD  @RedmondWaPD
Our thoughts are with the victims and everyone enduring the horrible tragedy in Las Vegas. Thanks to brave first responders who saved lives.

West Thurston Fire @ThurstonFirePIO
Nothing but love for Las Vegas. #VegasStrong#PrayForVegas#LVMPD#LasVegas#LasVegasStrong… instagram.com/p/BZwJ_CPhh8H/

Everett Police WA  @EverettPolice
Thoughts & prayers to all involved in the tragic #LosVegasShooting. Our hearts go out to victims & their families. Thank you #1stResponders

SK Fire & Rescue @SKFR_Media
As we wake up this morning, our thoughts and prayers are with everyone in Las Vegas. #standwithLasVegas

Puyallup Police @PuyallupPD
Our thoughts & prayers for everyone this morning in Las Vegas impacted by the horrific mass shooting last night. So many lost & injured.

Valley Fire Fighters @VRFA_Members
Thoughts go out to all victims and everyone affected by the horrific shooting in Las Vegas. At least one of our... fb.me/1fiGlTbBe

Sen. Maria Cantwell  ✔ @SenatorCantwell
News from Las Vegas this morning is horrifying. My heart breaks for the victims, their families & all impacted by this senseless violence.