Accusers go public, outraged by denials of former Seattle Mayor Ed Murray
SEATTLE-- We're hearing more from the alleged victims who say former Seattle Mayor Ed Murray sexually abused them as teenager in the 1970's and 80's.

Five men have now come forward, the latest being the mayor's own cousin.




Through attorney Lincoln Beauregard, 54-year-old Joseph Dyer released this statement:

"Edward claims, as with the other allegations, that he didn't molest me," Dyer wrote. "He really can't say anything else.  What benefit is it for me to come out and expose myself at this point in my life?  He states my reasons are due to a family feud. What family feud? The family opened our homes to him.  He took advantage of our generosity. We (the family) never had contact with his after he left New York.  The fact that he would throw his own sister under the bus speaks volumes about his character – and now the public knows the truth.   Please allow my family privacy."

It's a common theme coming from the alleged victims, angry over a person in a position of power denying he did anything wrong.

"I would want to tell him shame on you, shame on you for continuing this, because you know what you've done," said another alleged victim, Jeff Simpson.

The 49-year-old from Portland says Murray sexually abused him starting when he was 13 years old.

Simpson said the abuse began at a Portland children's center in the 1970's and continued when he lived with Murray as his foster son.

Speaking of Murray's resignation, Simpson said it's "not just is it overdue, but every time he gets in front of the media, he continues to lie to everybody about how he hasn't done anything."

He and others want Murray held accountable.

Fourty-six-year-old accuser Delvonn Heckard filed a civil suit against Murray and then withdrew it, claiming Murray paid him for sex when he was a drug-addicted teenager in the 1980's.

But filing criminal charges decades after alleged crimes are committed is more challenging.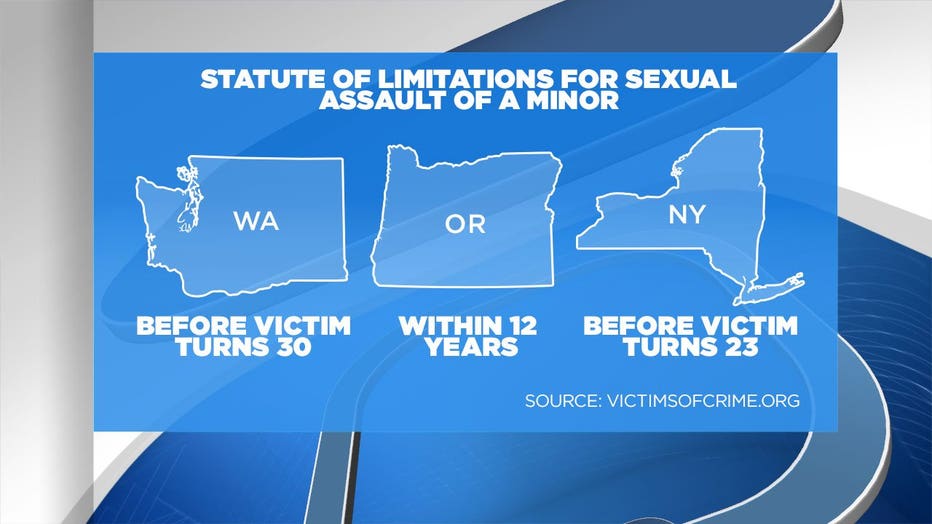 The three states where the alleged abuse took place all have statutes of limitations on sexual assault against children.

In Washington, charges must be filed before the victim turns 30 years old. In Oregon, charges must be filed within 12 years of the alleged crime.  In New York, they must be filed before the victim turns 23.

Legal analyst Anne Bremner said this case shows the statutes of limitations on crimes against kids should be revisited.

"A lot of the time, victims don't come forward for a long time," Bremner said. "And we need to support victims in knowing that they may some time before they come forward."

Janice Palm is the executive director at Shepherd's Counseling services in Seattle, where they work with adults who were sexually abused as kids. She says it's not unusual for adults to wait decades before they come forward.

"'I believe you', are the most important words than any child or adult could hear," she said.

Murray has publicly denied he sexually abused any of the accusers.