Accused violent armed home invader arrested by Kitsap County detectives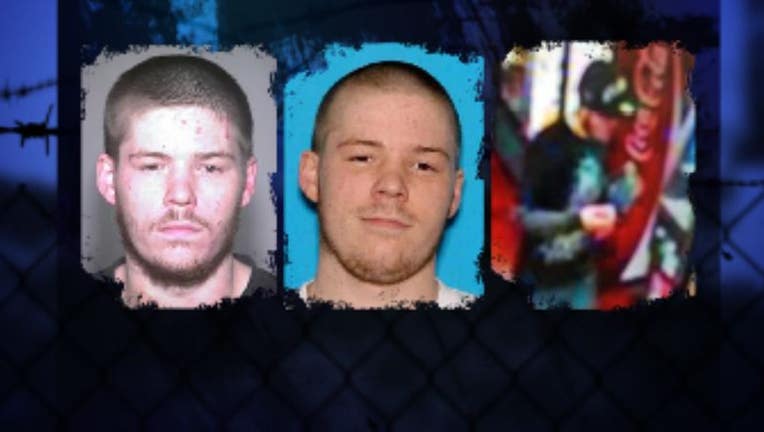 FUGITIVE CAPTURED December 17, 2014 - The Kitsap County Sheriff's Office says Hayden Armstrong-Nunes was arrested on Wednesday night after a short foot pursuit and physical confrontation outside the Rhododendron Apartments, 225 NE High School Road on Bainbridge Island. Also arrested in conjunction with Armstrong-Nunes was his girlfriend, 24 year old Ruthanne Villarreal. She was taken into custody inside an apartment at the same location. Following interviews with detectives Villarreal was booked into Kitsap County Jail for outstanding misdemeanor warrants of arrest, and on a probable cause arrest charge of rendering criminal assistance. After a court appearance Thursday, Villarreal remains in jail on $26,500 bail. Armstrong-Nunes was initially transported to jail for booking around midnight, Wednesday. Due to concerns about his physical well-being regarding possible narcotics ingestion, the suspect was taken to a hospital in Bremerton. Once cleared by attending physicians Armstrong-Nunes was returned to the jail and eventually booked for an arrest warrant, issued Dec. 8 out of Kitsap County District Court, for burglary, 1st degree and theft of a firearm. His bail was set at $250,000. Additionally, he also is being held on a no bail felony warrant of arrest issued by the Washington State Department of Corrections for escape from community custody. FUGITIVE WANTED IN KITSAP COUNTY December 12, 2014 -- The crime convicted felon, Hayden Armstrong-Nunes, is accused of makes him an extreme danger to every homeowner – a violent burglar willing to invade someone's house and fight with them. But the attack Armstrong-Nunes is accused of isn't his only threat -- Kitsap County deputies say he stole several guns during a terrifying home invasion near Poulsbo last week. Deputies say Armstrong-Nunes got into a physical fight with the homeowner and got a serious cut on his hand. "The homeowner had drawn a knife and the suspect grabbed the sheath and then grabbed the blade from being stabbed," says Kitsap County Dep. Sheriff Scott Wilson. "He fled the house at some point and time after this confrontation and ended up walking into a convenience store located down on State Highway 305. He asked to use the bathroom, went into the bathroom and got some paper towels to wrap around the injury to his right hand, needed a ride elsewhere to get out of the area. He approached a person who was pumping gas. Asked if he could get a ride, the person went ahead and said 'yes' and gave him a ride into Poulsbo."
Detectives would like to talk to the driver of that small, gold car, and want to stress they are *not* considered a suspect. Detectives think Armstrong-Nunes has shaved off his beard and large sideburns to try and change his looks and could be hiding anywhere around the Puget Sound area. If you know where he's hiding, call an anonymous tip into: CRIME STOPPERS: 1-800-222-TIPS You must call the Crime Stoppers hotline with your tip to be eligible to receive a cash reward for information leading to a fugitive's arrest. CLICK HERE for information on how to TEXT A TIP to Crime Stoppers.