Accused condo crooks charged, and Kirkland police think they're behind 100 burglaries and car prowls
FUGITIVES CAPTURED April 23, 2013 -- Thanks to tips from Washington's Most Wanted viewers, Kirkland police say they've caught a prolific pair of accused burglars -- a man and woman detectives think are behind around a hundred burglaries and car prowls. Soon after the story aired last month, a tip came in identifying both of them. Kirkland police followed up Tuesday night in Seattle, arresting the two at their apartment in Seattle:
Kirkland detectives obtained and served search warrants on the suspects' apartment, two vehicles and a storage unit in Ballard. Detectives recovered two firearms, evidence of drug dealing, cash and property believed to have been taken in similar burglaries of residential condominiums in the City of Seattle. Below is a photo taken of drugs, cash, guns, and some of the property believed to be stolen, that was recovered by Kirkland police.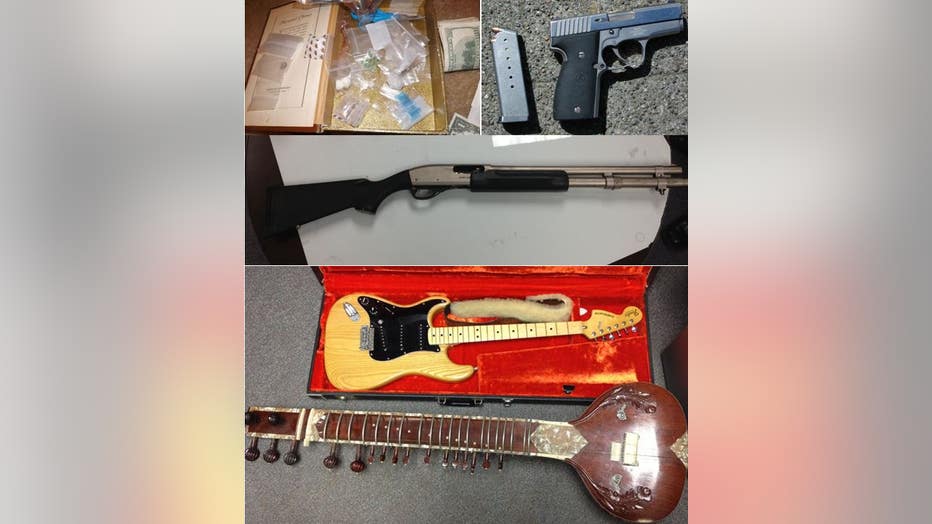 Detectives say Petrin had a stolen shotgun and was driving a car with a loaded pistol even though he is a 12-time convicted felon. His criminal history dates back to  1990 and includes convictions for Burglary, Unlawful Possession of a Firearm, Possession of Stolen Property, Theft and Drugs. Prosecutors charged him with Residential Burglary, Burglary in the Second Degree, Unlawful Possession of a Firearm and possession of Methamphetamine. Detectives say they found cocaine and meth in his apartment. In addition to the Kirkland burglary, he's accused of breaking into a home on North 82nd Street in Seattle while the owners were away for the Thanksgiving holiday. He will be arraigned on May 9th. Meagan Blankenship is charged with Burglary in the Second Degree and Possession of Methamphetamine.  She told detectives she is 6 months pregnant.  Prosecutors asked that she be held on $30,000 bail out of concern she may use drugs during her pregnancy, putting her unborn child at risk. "Kirkland Police Detectives would like to thank Q13's Washington's Most Wanted, Crime Stoppers and most importantly the citizens who provided anonymous tips that led to the successful arrest of the suspects in this case," says Kirkland Police Officer Audra Weber. FUGITIVES WANTED IN KIRKLAND March 22, 2013 -- Watch out who's following you into your parking garage -- that's the lesson to learn from a case in Kirkland, where detectives say a man and woman got inside the mail room of a condo complex by following a resident. Cops say they stole a brand new iMac computer and a bike.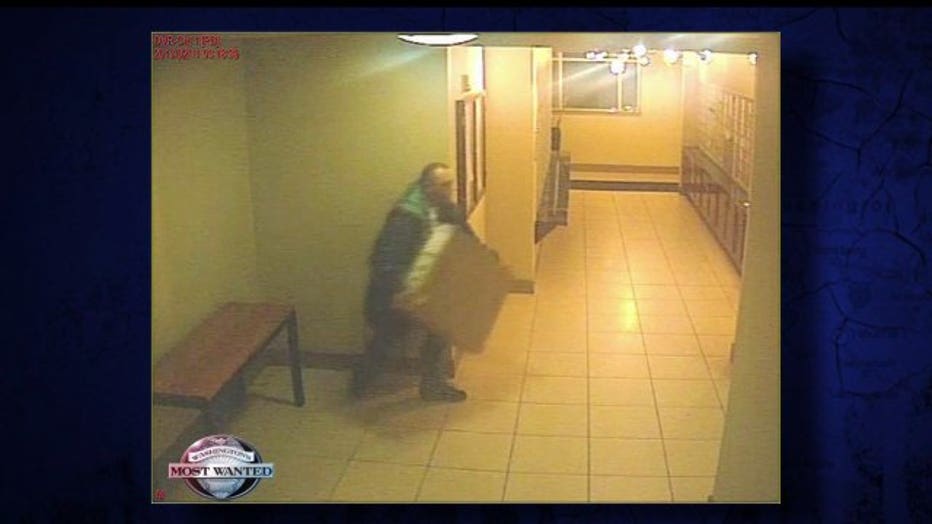 There were a bunch of surveillance pics snapped of them. One of them shows the man picking up the box with the 21.5" monitor inside it, before he heads right out the front door.
Back inside the garage, the woman was caught on camera looking around, then grabbing the bike and stealing it. These aren't criminal masterminds, but you always have to pay attention to people you don't know around your home. The man is wearing a plaid shirt over a white t-shirt, with a dark jacket that has green on the inside by the hood. The woman was wearing a plaid jacket and has long dark hair. Checkout a photo of the car they were driving, it's a dark-colored Toyota Camry with a rear spoiler, that's possibly a late 90's or early 2000's model. If you recognize either of these burglars and can tell Kirkland police what their names are, call Crime Stoppers at 800-222-tips. You can also text a tip here.