Accused armed Microsoft Store robber hides face in court; pleads not guilty to charges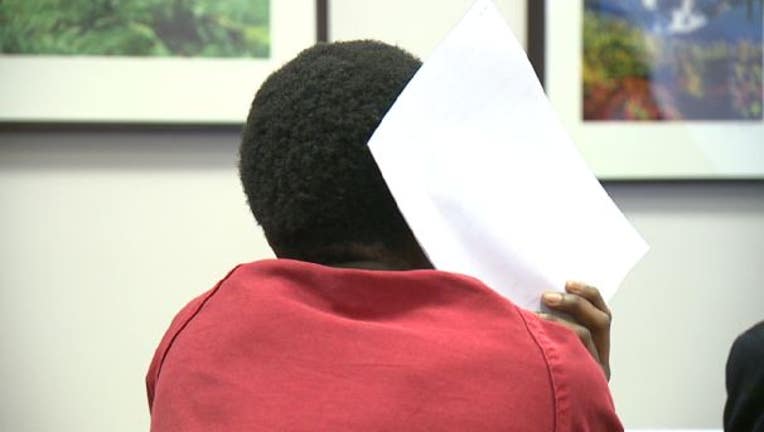 UPDATE February 26, 2015 -- Suspect John Ackah covered his face in court Thursday as he pleaded not guilty to the charge of Robbery in the first degree. His next court hearing is set for March 9th.
FUGITIVE WANTED IN SEATTLE February 6, 2015 -- Have you been thinking about getting a new Microsoft Tablet but don't have the money? Identify this armed robber and you will pocket a bunch of cash! On surveillance video, he walks into the Microsoft Store at the University Village in Seattle on Tuesday, goes directly to the display table and starts to look at the tablets. A store employee approached him to see if he needed any help but he told them to leave him alone. Then, you can see him unplug two of the tablets and then head right out the door without paying for them. That's when a security officer tried to stop him at the door with no luck. "Security follows him outside," says Ret. Det. Myrle Carner with Crime Stoppers of Puget Sound. "At this point, he produces what appears to be a gun and he says, "Either get away or I'll kill you B****. That's his words. So he takes off."
He was wearing a black North Face jacket, gray hooded sweatshirt, Nike brand sweat pants and red, white and black tennis shoes. He was armed with a dark colored pistol. If you recognize him, call an anonymous tip into: CRIME STOPPERS: 1-800-222-TIPS You must call the Crime Stoppers hotline with your tip to be eligible to receive a cash reward for information leading to a fugitive's arrest. CLICK HERE for information on how to TEXT A TIP to Crime Stoppers.